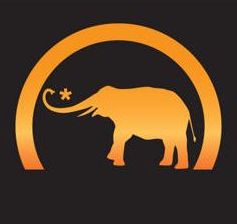 Note: this information is now outdated! Please visit here more about working and writing at Elephant! 
~
As most of you know, elephant consists of hundreds of volunteers,
with a minimal paid staff.
Please consider joining our team.  It's all very flexible.  You can do whatever you enjoy and have time for. Here's what we're looking for right now:
Invite Writers
Find great writers and invite them to elephant.  This is fun and easier that it sounds.  You browse the internet, find great writers you think are a good fit for elephant.  Then you just send them this link with a short introduction: How to become an elephant writer.  For more, see How to invite writers to elephant.
We welcome writers for all our ten gold tabs at the top of each page, but we are particularly interested in finding more great writers for the following topics:

Work & Money  / Green / Health & Wellness
Enlightened Society (Politics & Social Action)  / Entertainment & Culture
We are also looking for volunteers to find and invite writers in the following specialty areas:
Funny  / Animal Rights / Ecofashion / Adventure / Bicycle
elephant literary journal / Books, Videos, Music and Websites Reviews
~
Post Articles to facebook, our Homepages, and Pinterest
This is actually a really fun thing to to, because you get to read and post elephant articles to the relevant facebook and home pages as they come in.

Another example of posting is Pinterest.  Here is one example—the best of elephant "on-line coffee table book" just to give you an idea of how great elephant looks on Pinterest.  We're developing many other Pinterest pages as well.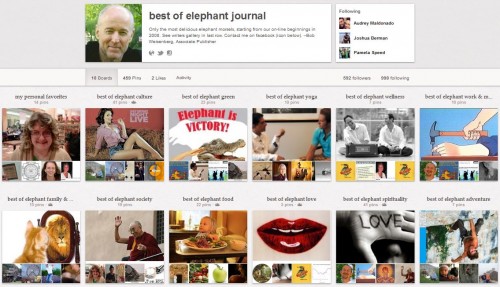 ~
Become an ele-ambassador for a topic, website, or geography
An ele-ambassador is a volunteer who acts as a liaison between elephant and a given community (topic, website, or geography), either one they are already close to, or one they would like to be close to.
You simply get involved in all discussions on the Internet about your community, and trade relevant information back and forth with elephant.
(If you are a writer, this also happens to be the best way to increase readership for your articles.)
A "community" can be anything you define it to be—a topic, a website, a geography, or any other special interest group.  Examples:
–a Topic, like Ashtanga Yoga or Education.
–a Website, like Huffington Post or Treehugger
–a Geography, like Vancouver or New Zealand
It's a two way street.  A community ambassador helps get elephant involved in the community , but equally important, they get the community involved in elephant.
We are particularly interested in developing a strong presence on these websites:
New York Times / Huffington Post / LinkedIn
facebook (non-elephant pages & groups) / Pinterest / StumbleUpon  
Tumblr / Twitter  (non-elephant pages  groups) / Yahoo
 For more see How you can help build the elephant community.
~
Six-Month elephant Apprentice Program
This is a formal six month certificate program devoted to editing, new media ethics and social media requiring 15 hours per week.  See Apply: elephant journal Apprenticeship Program.
~
Write to me by facebook message and tell me about your particular area of interest.  I'll look forward to hearing from you.
Bob