A few other inspiring reads re: gents…
The Rarest & Sexiest thing a Man can Do.
How to Attract an Awakened Man.
Marry a Man who Touches You.
~
He's older now, but nice work.
If we take care of ourselves: yoga or a little stretching, walking and biking even a few minutes a day…we can feel 10 years younger: Answer these 10 Questions and this Site tells you your Body's Real "Fitness Age."
A "few" years earlier: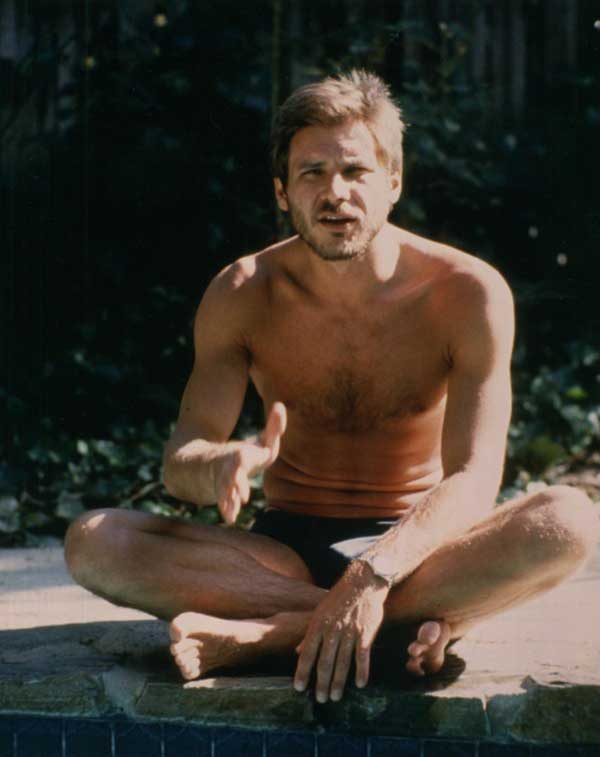 "I'm beginning to think that Indy and his father DID find the holy grail."
"…it's interesting is that Harrison Ford is an able handyman and carpenter. Early on after he moved to Los angeles to do Radio voice overs he became a self-taught professional carpenter to support his then-wife and two small sons. While working as a carpenter, he became a stagehand for the The Doors. He also built a sun deck for actress Sally Kellerman and a recording studio for Brazilian band leader Sérgio Mendes.
What landed him his big break is funny. In 1972 He was hired to build cabinets at George Lucas's home. who subsequently cast him in a pivotal supporting role in the 1973 film, 'American Graffiti'. Lucas and Ford became good friends after that. In 1975, Lucas hired him to read lines for the actors auditioning for the film Star Wars. It wasn't until he had done line readings for a couple months that George Lucas, with the studio's ok, gave him the role of Han Solo.
Ford is a private pilot of both fixed-wing aircraft and helicopters, and owns an 800-acre (3.2 km2) ranch in Jackson, Wyoming, approximately half of which he has donated as a nature reserve. On several occasions, Ford has personally provided emergency helicopter services at the behest of local authorities. During his assigned duty time assisting the Teton County Search and Rescue he has aided in two mountain rescues…"
Want to be like Harrison at 70? How to run, at any age: and how to eat to run:

How to eat Ayurvedically:

Know fake food when you see it:

Maintain health through obstacles:

I just joined r/fitness on Reddit:
For more: an active man's legs at 74 vs. a sedentary man's legs.
A health tip for every body: