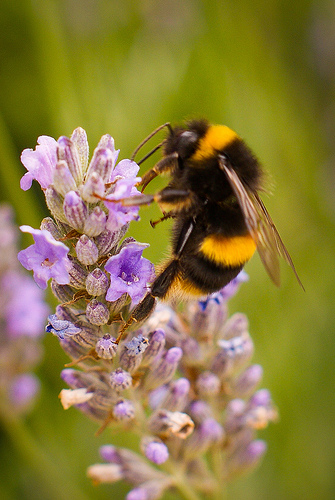 Do you love bees as much as I do?
This week is Bee Week of Action, which goes through February 16th—a perfect time to show your love of bees.
It's easy! Just print out, sign and deliver Show Bees Some Love letters addressed to Home Depot and Lowe's—which you can download here—telling them to stop selling pesticides containing neonicotinoids (neuro-active insecticides chemically similar to nicotine).
These bee-killing pesticides "hide" in more than half of the "bee friendly" garden plants sold at stores like Home Depot and Lowe's. With no warning to consumers. In fact, many people are buying these with the intent of providing habitats for bees and other pollinators.
Bees need our love.
Bees pollinate one third of our global food crops. Last year U.S. beekeepers reported 40-100 percent loss of their hives.
Europe has already banned bee-harming pesticides. Top retailers in the UK are refusing to sell them. Why not the U.S.? Here's what the EPA has to say about it.
If your snowed in, you can sign the online petition at foe.org asking Home Depot and Lowe's to stop selling off-the-shelf bee-killing pesticides and plants pre-treated with these pesticides.
But I recommend stinging these retailers where it hurts by physically bringing a Show Bees Some Love Valentine's Day letter to your local Home Depot and Lowe's (ideally, you'll hand it to one of the managers). If you prefer the swarming method, click here to find a Valentine's delivery event near you.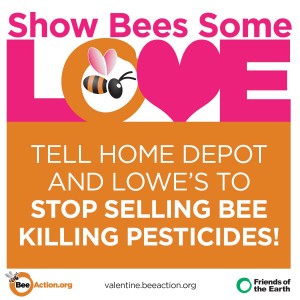 More ways to show your love of bees…
Create some buzz by sharing this far and wide across your social networks, email, writing in the sky…
Join the #EcoWed twitter chat at 10PM EST tonight to spread the #BeeLove. Learn more here.
Post a message to Home Depot's and Lowe's Facebook pages.
Plant a bee-friendly habitat this spring but verify that the plants or seeds are pesticide and GMO free.
Love elephant and want to go steady?
Editor: Bryonie Wise