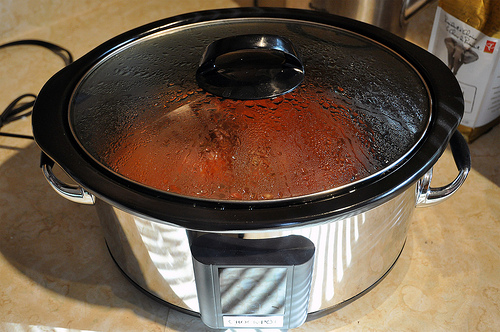 I have made no secret of the fact that I am a bit of a clumsy dame in the kitchen.
Having to prepare for a week of meals seems to always takes me by surprise and requires an impressive lot of energy to pull off.
I often default to one of the following:
1. Pre-roasted chicken with sweet potato fries and baked kale.
2.  Fish tacos.
3.  Chipotle.
I was recently drinking wine with a friend. She was talking about her new year's goals and the conversation went something like this:
Her: I really want to try out those freezer-to-crock-pot meals and I also want to start going to yoga on a regular—
Me: What did you say? Freezer-to-crockpot what?
It turns out there's a food revolution going on where moms everywhere are spending hours on their Sunday afternoon (whether or not they are clothed and whether or not they are drunk is their prerogative) chopping veggies and preparing recipes, putting them in freezer bags and stacking them in their freezer for the next many weeks.
Here's what their proposed futures will look like: they will take a bag out of the freezer one night, and the next morning they will put the thawed version of it in the crock pot to cook for the day.Voila, a warm cooked meal will be prepared and ready for them in the evening!
And their house will smell as if someone was burning a candle called "Classic Chicken Soup." And how much time did they have to spend during the day to make this happen? All the time it took them to dump the bag into the crock!
Do those words make anyone else shiver with glee?
I can see it now—just as I am about to feel a typical pang of guilt for not having dinner ready at about 4:00 p.m. while out running errands or on a play-date, I will remember, ahh, the crock is doing it for me.
All taken care of.
Joy.
I googled "freezer-to-crockpot" and I came up with this, this and this, for starters.
Not to mention Pinterest, holy cow. There are dozens upon dozens of recipes.
What I discovered with a tiny bit of research is that many of the blogs out there are quite interested in "affordable" cooking for their family, thus buying "great value" brands, Lipton soup mixes and bulk non-organic chicken.
(Author's note: I prefer to be a vegetarian. However, I was told more than once that I needed more protein in my diet and less soy to enhance fertility which is a different story altogether. Since I don't eat much dairy, either, I opted to start eating select poultry. I get it only from places where the staff can tell me exactly how this animal lived and exactly how it was killed.)
So, it's no problem to convert the recipes into ones that are more concerned with good quality ingredients than cheapness.
Here are the four recipes that struck my fancy:
6-8 chicken breasts
4 tb. olive oil
2 limes (juiced)
2 cups cilantro
1 bag frozen corn
4 garlic cloves
1 red onion, chopped thin
2 cans black beans
2 ts. cumin
1 pound dried red kidney beans

7 cups of water

1 green pepper chopped

1 onion chopped (medium)

3 celery stalks, chopped

3 garlic cloves, chopped

1 pound smoked sausage (I used organic chicken sausage)

3 ts. Creole seasoning 

Cooked Rice 
#3. Marinara Chicken and Vegetables.
3-4 boneless, skinless chicken breasts

4 cloves garlic

1 can of diced tomatoes & green chiles

4 ribs celery, chopped

2 small zucchini, chopped (about 2 cups)

1 green pepper, chopped

2.5 cups of spaghetti sauce

1 ts. basil

bow tie noodles (or another version of your favorite)
#4. Veggie Chili with sweet potatoes. 
1 medium red onion, chopped
1 green bell pepper, chopped
4 garlic cloves, chopped
1 tablespoon chili powder
1 tablespoon ground cumin
2 teaspoons unsweetened cocoa powder
1/4 teaspoon ground cinnamon
kosher salt and black pepper
1 28-ounce can fire-roasted diced tomatoes
1 15.5-ounce can black beans, rinsed
1 15.5-ounce can kidney beans, rinsed
1 medium sweet potato (about 8 ounces), peeled and cut into 1⁄2-inch pieces
The report from one week later: Success!
How wonderfully simple this was!
The hardest part was how uncharacteristically grumpy Opal was at the grocery store.
That night, after we put Opal to bed, Jesse and I chopped and prepped our recipes together. We got into a great conversation about life, the pursuit of happiness, dog-training and scheduling for the week, just as we would have as per usual on the couch. Same content, different actions. Our eyes watering from the onions made it all seem much more dramatic.
All of that took us both less than an hour.
I divvied up the recipes in roughly two-serving portions per bag, labeled what they still needed (add chicken, add two cups water, etc), then I stacked them in the freezer. Our freezer is tiny, but we still were able to fit eight servings of four different meals on the top shelf with plenty of room to spare!
It's now been a week and we tried the cilantro chicken, though I made it with the cilantro separate because Jesse says it tastes like soap. I cooked the chicken separate and added it at the end. (Many moms have said that to get more flavor into your slow cooker meals it is best to caramelize the meat and onions before placing them into the slow cooker.) I also added avocado, brown rice and salad greens at the end. Delicious!
We also tried the veggie chili, again cooking the chicken sausage separately. I kept a close eye on this one so as not to burn it and I did add a bit more water late in the game, so it turned out perfectly. I served it with blue corn chips and hummus, and it was fabulous, but I was fantasizing about cornbread the whole time.
This week, it's red beans and rice and chicken marinara! (How savvy and domestic does that sound?) Both are already prepped and waiting for me in the freezer. I've got the marinara in the crock even as I type.
(I swear I hear the song Amazing Grace every time I open the crock pot lid.)
*A few things to note about putting small portions in the crock-pot—it did dry out quickly and got a little burned on the bottom. So, in the future, I'll remember these tiny portions need much less time to cook. Especially without chicken. Also, I thought I'd be able to wash and reuse the freezer bags after each meal, but the oily sauces made them nearly impossible to wash. So, next time, I'll stack the meals in reusable Pyrex containers.*
This really is revolutionary. My grocery list for this week is half of what it normally is—mostly supplemental items. So, even with excellent ingredients, it does feel like I am saving money.
Opal and I will hit the store later while dinner is cooking without us.
Love elephant and want to go steady?
Editor: Catherine Monkman
Photo: caribb/Flickr