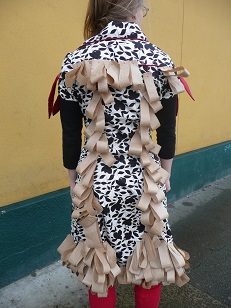 As part of my "Have Fun in February" project, today I wore The Dress of Good Fortune.
This is a dress which has fortunes sewn onto it for people to take. In anticipation of National Women's History Month in March, all of the fortunes were created using quotes from important women authors. Well, important if you read. If you watch TV all day, maybe not so much.
I was inspired to make it while I was talking to a friend of mine at work about women's art gone wrong during art school. She had once made herself into a canvas, then she let people paint all over her. I once sang "These are a Few of my Favorite Things" while wearing a blue floral chiffon dress and stuffing chocolate covered nuts and raisins into my mouth. I had to stop when I started choking.
Sometimes I look back at my 27-year-old art school self and I laugh my fool head off.
I mean, what was I trying to say? Diversion is the key to happiness? Chocolate will eventually kill you? The Sound of Music is the answer to every question? Well, actually, that last one was my truth for many years. I have just recently entered my Mary Poppins phase, having just come through a short stint of Snow White. You don't even want to know about my What About Bob? phase.
Flash forward 17 years, and here I am at work, wearing a dress with small pieces of brown paper sewn to it, and it comes to me that this type of practice is absolutely the key to happiness. Once every half hour or so, I experienced a delightful interaction with someone about a fortune they had pulled.
James, the first person to pull a fortune, read it and said, "Oh, just vague enough to not be offensive."
One guy pulled a fortune off of me, looked at me and said gravely, "There is a lot about you I don't know."
Another of the reactions from a guy that I work with: "I pulled this fortune off your ass! I expected something more exciting! Instead I got this crap!" The very next moment, a woman came up and pulled a fortune from of me that read: "If you wear a short enough skirt, the party will come to you." (Dorothy Parker) She just gave me a blank stare and said, "of course."
The whole purpose of Have Fun in February was to see just how fun I could make it, and believe me, if I could have fun on this day, it is working.
Without going in to too much detail, I will tell you that I did a few things in the recent past at my job which all seemed to converge today in a massive explosion of frustration and vitriol towards me. Well, that might be a bit of an exaggeration, but I would be remiss if I didn't say that this is kind of a consistent thread in my life, either pissing people off or making people cry at work.
Today was the first day ever that it didn't bother me in the least, due to the absolute magic of The Dress of Good Fortune.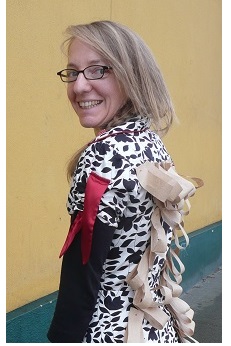 A sampling of some of the "fortunes" on the dress:
"You can lead a horticulture, but you can't make her think." ~ Dorothy Parker
"Those that don't got it, can't show it. Those that got it, can't hide it." ~ Zora Neale Hurston
"Kiss me and you will see how important I am." ~ Sylvia Plath
"The older one grows, the more one likes indecency." ~ Virginia Woolf
"In nine cases out of ten, a woman had better show more affection than she feels." ~ Jane Austen
"Vanity is the quicksand of reason." ~ George Sand
"We don't see things as they are, we see things as we are." ~ Anais Nin
"The air of ideas is the only air worth breathing." ~ Edith Wharton
"If you surrendered to the air, you could ride it." ~ Toni Morrison
"We may encounter many defeats but we must not be defeated." ~ Maya Angelou
Looking back at the great adventures I had today with my magic dress, I wonder, is it okay that I have left so much upset in my wake without reason or explanation?
To quote another very important woman:
"I would like to make one thing quite clear: I never explain anything."
~ Mary Poppins
Love elephant and want to go steady?
Editor: Catherine Monkman
Photos: Author's own.