Waylon talks with longtime (virtual) colleague Chris Grosso about Spiritual Materialism and Fame, addiction, meditation and how elephant helped connect up the whole love, marriage and ring thing.
Elephant is psyched to be working in partnership with Google+ on our new live video series, which features three live videos a week (that can be watched later, too).
Chris Grosso is an independent culturist, spiritual aspirant, recovering addict and author of Indie Spiritualist: A No Bullshit Exploration of Spirituality. Chris is also a Professor with en*theos Academy and writes for various websites including Huffington Post and Rebelle Society as well as for Origin magazine and Mantra Yoga + Health magazine. A self-taught musician, Chris has been writing, recording and touring since the mid 90s.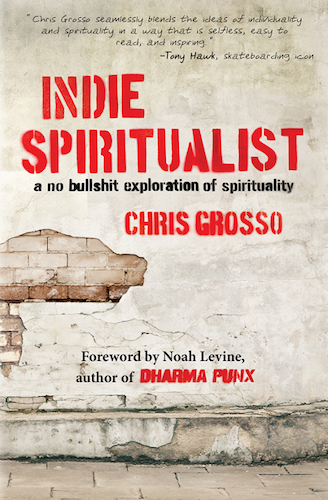 "Chris Grosso, in a well written book, takes us into his mind and through a plethora of experiences. Indie Spiritualist guides readers to greater awareness and love." ~ Ram Dass
"Chris Grosso seamlessly blends the ideas of individuality and spirituality in a way that is selfless, easy to read, and inspiring. He can help you find a purpose and be proud of yourself." ~ Tony Hawk
"'Indie Spiritualist' offers clear insight and fresh inspiration for this emerging generation of truth seekers. Its a great read and serves as a good friend to have along the path." ~ MC Yogi
Relephant:
For the first word on our new videos each week: subscribe to Walk the Talk Show. All videos free!
Hangout with elephant on Google+.
Editor: Rachel Nussbaum

Photos: Chris Grosso