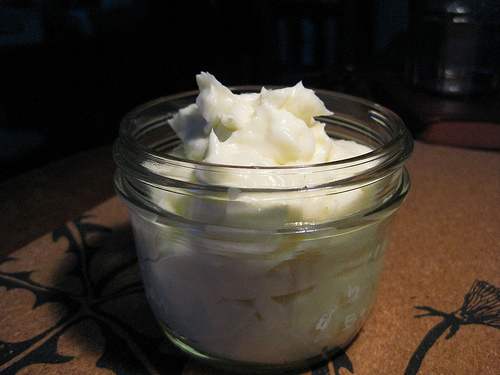 The winter season leaves my hands as dry and crackling as a fireplace on a snowy day.
Dry. Cracking. Bleeding. I think twice about manicures, good, old-fashioned handshakes and paying at registers. I wear wooly gloves outside. I moisturize, but frequent applications of drugstore lotions do not necessarily solve the problem.
Unfortunately, I cannot avoid the great outdoors, showering or washing dishes until April.
Sometimes I feel like one of those demons in Middle Ages folklore, the kind with the dry, cracked hooves and paws—the creatures parents of yore used to threatened unruly children about.
Eat your vegetables. Or else!
No wonder those demons were upset!
Dry, irritated hands are uncomfortable! And cracking and bleeding skin can leave one vulnerable to infections.
I did some research and experimentation and eventually stumbled upon this whipped coconut and avocado oil concoction. It is a godsend for dry hands—soothing, hydrating, relatively inexpensive, all-natural and not to mention, fun to make! Did I mention it looks like cupcake frosting and is literally good enough to eat!
While it won't bring about world peace, it may give you a little more peace of mind.
Those looking to wean themselves from chemical-laden commercial cosmetics and lotions—especially parabens (which have been linked to breast cancer in some studies)—may want to whip up a batch!
You will need:
1 c. organic coconut oil at room temperature (not melted)
2 Tbsp. organic avocado (or jojoba) oil
A few drops of essential oil. (I used bergamot.)
A mixer (like Kitchen Aid) with a wire wisk or hand blender for whipping and aerating. (Hint: A regular blender won't work.)
Directions:
1.  Place the solid coconut oil (do not melt) into a mixing bowl. Place the wire wisk implement onto the Kitchen Aid mixer or use a hand blender. Whip until the mixture reaches a creamy, frothy consistency. For me, this took about 8-10 minutes.
2.  Slowly add the avocado (or jojoba) oil to the coconut oil while mixer is whipping. (Or, for a more solid product, avoid this step.)
3.  Add 10 drops of organic essential oil. Lavender is calming and relaxing. Bergamot is uplifting. Grapefruit, lemon or lime are energizing—remember, spring is right around the corner! Sandalwood or patchouli are earthy and mystical.
4. Scrape the bowl and place the whipped coconut oil into a pretty jar or container with lid.
5.  Apply and heal! Coconut oil is super-moisturizing and has a mild sunscreen effect.
6.  Store at room temperature.
A caveat: This mixture can be a bit greasy until it absorbs into the skin and can leave oily stains on clothing and linens.
Avoid using electronics like phones or computers immediately after application. Put on cotton gloves to retain the moisture if applying before bedtime.
These websites have served as inspiration: Living The Nourished Life & Babble.

Love elephant and want to go steady?
Editor: Catherine Monkman
Photo: its Gem/Flickr