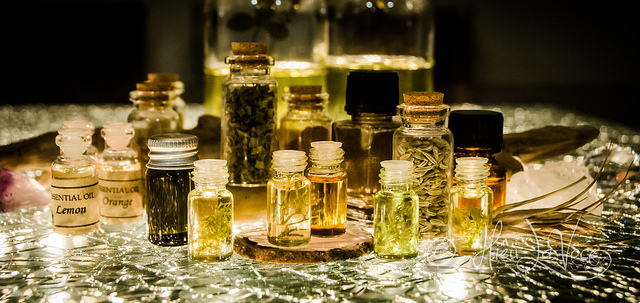 Looking for a new way to enhance your yoga or meditation practice?
Do you like nice-smelling things?
Think of a goal: would you like to…
Relax and restore?
Ground and balance?
Enlighten and energize?
Looking for a natural way to clean a yoga mat which has endured way too many hot yoga classes?
Have you ever considered making your own homemade yoga mat sprays? It's super-easy and relatively inexpensive, especially compared to commercially produced formulas!
Here's how:
Purchase 100% all-natural oils, if possible.
Purchase several small spray bottles. I like the small cobalt blue bottles available in many health food and speciality stores (they preserve the integrity of the essential oils) although any small spray bottle will work.
If possible, use distilled water.
Test a small quantity of your homemade concoctions before misting down your mat. Be aware of any allergies or sensitivities to essential oils. Crack a window if you feel the aroma may be overpowering.
1.) Relax and Restore Spray:
This is the oldest trick in the book, but, boy does it work!
Fill a small spray bottle with distilled water. Add 15-20 drops of organic lavender oil. (Adjust the amount of oil to achieve your ideal concentration.) A few drops of organic jasmine oil, or sandalwood oil can be welcome additions.
Mist your mat and practice area for a yin or restorative practice, or use to unwind after a long day. Make an extra bottle and keep in your purse or desk. A whiff before a big meeting or exam works wonders!
2.) Enlightening and Energizing Spray:
Is today vinyasa flow day?
Citrus sprays are simply divine! Fill a small spray bottle with distilled water and add 10 drops of grapefruit essential oil and 10 drops of orange essential oil. (You may very amounts of essential oil, according to preference. Lime or lemon oil work well. Vetiver or palmarosa are also nice additions.)
This formula is also a great wake-up formula! Mist a tissue and place on the car dashboard. The sunlight releases the aroma. Taxing traffic? No problem!
3.) I-Have-Allergies-And-Don't-Know-What-To-Do Formula:
So do I! This concoction can help open clogged sinuses and make breathing possible again.
Fill a small spray bottle with distilled water. Add 15 drops of eucalyptus essential oil and 10 drops of peppermint oil. (Again, you may vary amounts depending on personal preference.)
Mist your mat and practice area. Get ready for some alternate-nostril breathing!
4.) Funky Mat Formula:
You don't need harsh solvents to disinfect your yoga mat! Fill a small spray bottle with distilled water. Add 15 drops of tea tree oil, nature's natural anti-viral and anti-microbial. You may add another oil with antibacterial properties if you so desire: lavender or eucalyptus.
I have also heard that witch hazel makes a good addition.
Spray down your mat and say sayonara to germs!
5.) Mystical Formula:
Yoga and meditation are all about breaking through old barriers.
Fill a small spray bottle with distilled water. Add 10 drops of jasmine oil and 5-10 drops of sandalwood oil. Add a few drops of rose oil if you desire.
Meditate away!
Don't like any of these sprays? The world of essential oils provide infinite combinations!
If you already use aromatherapy, what are some favorite essential oil combinations and why?
Love elephant and want to go steady?
Editor: Renée Picard

Photo: Hieu La Voce at Flickr