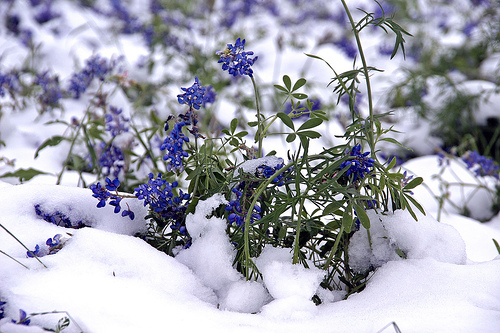 The first day of spring has arrived cloaked in winter.
Flurries, flat gray skies and cold. Oh, the cold. I'm ready for a change. For warmth. For an adventure. And I'm not going to wait until spring has sprung.
Here are a few ways I plan to celebrate spring regardless of what kind of shenanigans the weather is up to:
1. Go deep into my practice like I did this morning where my breath touched what was ready to bud inside of me. Closing my eyes, tuning into my body, generating my own heat. Feeling my breath not just at my nose but all the way to my spleen and gut and toes. Now that's an adventure.
2. Read "The Signature of All Things" by Elizabeth Gilbert. When I bought it a few months ago I thought it would be the perfect spring read. And it is. This large, lush novel follows a family of botanical explorers and takes us from London to Tahiti from Philadelphia to Peru and beyond. It's the perfect story to take me out of this long, cold winter and into a world of plants, exploring, adventure, travel—what more could I ask for?
3. Buy some flowers for my desk. Gorgeous blossoms drenched in color.
4. Attend a Spring Vinyasa Flow at my studio. We are all bringing a flower to place in the center of the space and we will practice around a mandala of blossoms. Community, practice, heat, flowers…perfect.
5. Meditate every day. Learning to observe my thoughts without getting attached helps me not get attached to other things like how much I am hating this weather.
6. Declutter the stray nooks and crannies of our house. Gather up what we no longer use or need and get ready for a neighborhood garage sale. Make room in my life for the new.
7. Bundle up and go for a walk at the park. Just being in nature is soothing and healing. And knowing that the ice will soon thaw, leaves bud, birds sing reminds me that time is fleeting and ever-changing. As I often tell my daughters, learn to appreciate the season you are in.
8. Try to enjoy these last few day or weeks of wintery weather. Be grateful for the opportunity to snuggle in sweaters and socks with a cup of tea, under blankets. It'll be summer before we know it and we'll be complaining about the heat.
Happy Spring Equinox!
Love elephant and want to go steady?
Editor: Rachel Nussbaum

Photo credit: elephant journal archives