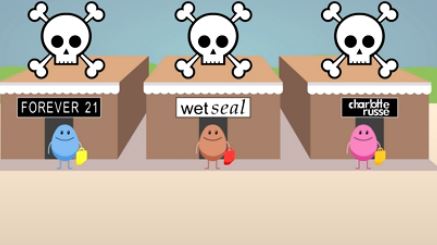 Some stores are still selling lead-tainted purses, belts and shoes.
As reported in the New York Times, this lead-selling is in violation of the law, even years after the companies—including Forever 21, Wet Seal and Charlotte Russe—signed legal settlements with CEH that require them to stop selling these hazardous products.
Most of these products are sold in China. The worst offenders: accessories in red, green, yellow and orange.
Lead has been linked to kidney failure, nervous system damage, cardiovascular problems and many other health problems…even at low levels.
"Lead is a cumulative burden — we tend to store it very well."

~ Dr. Bruce Lanphear, professor of health sciences at Simon Fraser University in Vancouver and lead contamination expert.
Watch this video (a parody of Dumb Ways to Die, included below) to learn more.
Click here for your free lead test from Center for Environmental Health.
And now for the original Dumb Ways to Die.
Love elephant and want to go steady?
Editor: Bryonie Wise