I'm more than a little spun up with the looming March 7th public comment deadline for the Keystone XL Pipeline: a 1700+ mile conduit for dirty tarsands.
My son and I took a long bus ride to protest the Keystone XL Pipeline in DC a little over a year ago.
Recently, I got into a twitter clash (see here and here) with a Forbes writer who supports the pipeline and called the recent student protest "An Exercise In Hypocrisy And Ignorance."
Warning! You are entering a rare Lynn rant zone!
I don't usually get into these types of conversations and I've never been called one of "you people" (whoever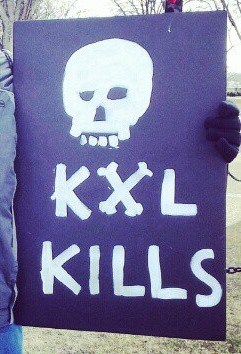 you people are). However, I thought I could possibly tap into his humanity. I believe all people—at their very core—care about the well-being of others.
I'm sure you will notice my heightened anxiety in the podcast (over and above my usual angst about actually being on a podcast—I had forewarned Green Diva Meg before starting this gig that "I'm a writer, not a talker!").
But this guy glossed over what all of this means to the indigenous people and what more oil spills might mean to those in the pipeline's path.
His argument was that the tarsands are going to happen anyway—the U.S. should be the ones to receive the oil for refining where emissions would be better regulated. But what about the people who live near the refineries (related story below)?
Why can't we devote as much energy and resources to renewables instead of what could be an game over for our climate?
But I digress.
There's never a shortage of other environmental news. Don't let me stop you! Listen to the podcast below!
Adapted from the Green Divas myEARTH360 Report: Environmental News Update 3.6.14.
Take Action!
This is the last official public comment period for Keystone XL—one of the very last steps before President Obama makes his decision on the pipeline, and the final opportunity to give your input (in an official way).
The State Department is accepting comments on the Final Environmental Impact Statement, and the last time State was accepting comments, we submitted over 1 million as a movement. Click here to take action now.
Learn more about the tarsands and Keystone XL Pipeline.
Love elephant and want to go steady?
Editor: Catherine Monkman

Photos: elephant journal archives & Courtesy of author.