Waylon chats with leading meditation and spiritual teacher Sharon Salzberg on Real Happiness at Work. Bring Mindfulness & Meditation to your Everyday Grind with these simple, yet profound tips:
Elephant is psyched to be working in partnership with Google+ on our new live video series, which features three live videos a week (that can be watched later, too).
They will begin their conversation with a short meditation. For a longer meditation experience, watch this video.
~
In March, 2011, Waylon hosted Sharon for an interview at Hotelephant (Waylon's home in Boulder, Colorado). See below for the "seven" question speed round with Sharon:
Sharon Salzberg on Loving Kindness:

Sharon Salzberg is one of the leading meditation and spiritual teachers in the world. She cofounded the Insight Meditation Society with Jack Kornfield and Joseph Goldstein, and has played a crucial role in bringing Asian meditation practices to the West. The ancient Buddhist practices of vipassana (mindfulness) and metta (lovingkindness) are the foundations of her work.
She is the author of eight books, including the New York Times best-selling Real Happiness as well as Lovingkindness and Faith. A meditation teacher for 40 years, she has been a contributing editor at O, The Oprah Magazine and has appeared in Time, Real Simple, Good Housekeeping, Self, Yoga Journal, More and others. She divides her time between Barre, Massachusetts, home of the IMS, and New York City.
Connect with Sharon Salzberg on Twitter, Facebook and YouTube. 
Real Happiness at Work: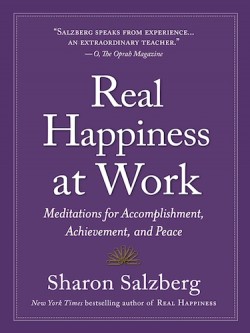 Difficult coworkers; feeling undervalued; a long commute; boring tasks; trouble finding focus—no matter the source of contention, everyone with a job faces daily challenges that undermine the  ability to be happy at work. But here is the secret: Anyone who can breathe can find happiness—even at work.
Real Happiness at Work: Meditations for Accomplishment, Achievement and Peace, the follow-up to the New York Times bestselling Real Happiness, is a practical guide in which Sharon Salzberg brings the profound benefits of meditation to the workplace. Using core meditations and stealth practices, readers will learn how to improve their work life through mindfulness, compassion for coworkers and clients, and ingenuity.
If you don't already have a meditation practice, the exercises in Real Happiness at Work will get you started. If you do have one, Sharon's guidance will show you how to bring it to the office with specific and meaningful acts appropriate anywhere—even during a meeting. Employing simple thought adjustments and mini-meditations throughout the day will improve creativity, productivity, organization and kindness, for both you and your coworkers. For example:
1. Put a free minute—or five—on the calendar before every meeting for a short follow-the-breath break.
2. Notice how you are holding something in your hand—a steering wheel or cup, for instance. Sometimes we exert so much force holding things it exacerbates tension without our realizing it.
3. Uni-task! Focus exclusively on just one thing—for a small portion of time, if necessary.
4. Don't pick up the phone on the first ring. Let it ring three times, breathe, then pick it up.
5. Before sending an important email, send it to yourself first. When you open it as the "recipient," you'll better notice the tone, implications and omissions.
6. As you sit down at your workspace, gently scan the sensations of your body, from head to toe. Notice areas of tension, and breathe into them to relax.
Pulling from 40 years of meditation teaching, Salzberg presents the Eight Pillars of Happiness in the Workplace and explains them through narrative anecdotes and examples, questions and answers, and of course, breathing exercises. The core concepts explored by each chapter are:
1. Balance: the ability to differentiate between who you are and what your job is
2. Concentration: being able to focus without being swayed by distraction
3. Compassion: being aware of and sympathetic to the humanity of ourselves and others
4. Resilience: the ability to recover from defeat, frustration or failure
5. Communication and connection: understanding that everything we do and say can further connection, or take away from it
6. Integrity: bringing your deepest ethical values to the workplace
7. Meaning: infusing the work you do with relevance for your own personal goals
8. Open Awareness: the ability to see the big picture and not be held back by self-imposed limitations
These eight pillars are the foundation of Real Happiness at Work—and the key to unlocking happiness in a subtle yet powerful way.
Praise for Real Happiness: 
"Among the many books that apply Buddhism to everyday life, this is a standout." ~ Publishers Weekly
"Salzberg speaks from experience…an extraordinary teacher." ~ O, The Oprah Magazine
"A guide to generating happiness from within oneself, rather than relying on external events." ~ Los Angeles Times
~
Relephant:
For the first word on our new videos each week: subscribe to Walk the Talk Show. All videos free!
Hangout with elephant on Google+ every Monday, Wednesday & Friday
at 12 noon MST.
Editor: Rachel Nussbaum

Photos: Sharon Salzberg