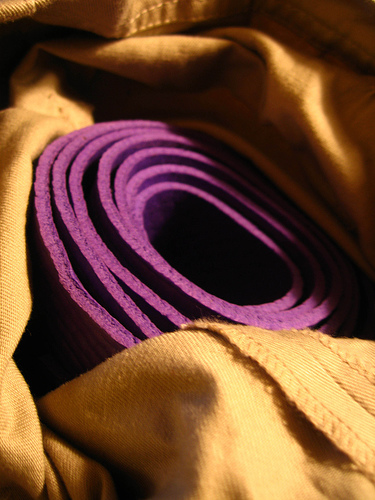 Immediately, I wrote my name in
a purple corner.
I wanted it to belong to me.
Washing it carefully now, I am
getting out the sweat, the smells, the fear,
judgement, regrets, failures,
perfectly balanced poses of the past.
I'm rubbing this diluted vinegar
into my expectations—
the most stubborn of all stains.
Cleaning is a practice. This is yoga.
How you do one thing is how you do everything.
Protectively, I  wash my name.
My hand takes over,
pushing harder, in strong circles.
Shoulders engage,
breathing deepens.
The letters let go of the rubber.
A small dark river flows away.
This mat is not mine.
Yoga is working.
It is scrubbing this body and mind
clean.
Love elephant and want to go steady?
Editor: Catherine Monkman
Photo: elephant journal archives