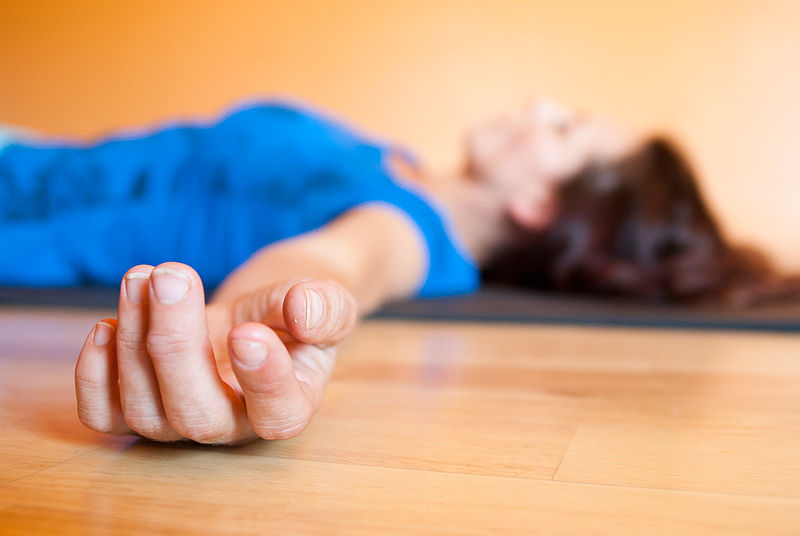 Imagine your massage therapist posted a photo on Instagram of you.
Facedown on the table in a dimly lit room, without your knowledge, captioned:  Relaxing clients all day. #massage #magichands #bodywork
Or your trainer, behind you counting your squats snapped a photo of your booty, without your knowing and posted online, captioned: Booty by Brian! #squattingeverydamnday #workout #fitspo
For certain, most of us would feel surprised. And many of us would feel violated, angry and exploited by a professional we trusted.
Why then, dear yoga teachers, are some of you taking photos of your students in savasana (corpse pose) and posting them on the Internet?
A quick search of '#savasana' on Instagram reveals teachers bragging about sneaking photos during the private sessions of savasana—the teacher snapping a photo of herself and the propped and eye-pillowed student in the mirror, photos of children in savasana, videos of students in savasana.
Teachers, what is happening here?
I should state one thing to begin: I understand that teaching yoga is a profession and a business and promoting yourself, your classes, and your success as a teacher is important. I own a studio and teach in a variety of spaces and cities, so I get it, I do! I've posted many a yoga selfie, and photos of students as well (with their knowledge and their permission to opt out).
But let's rewind just a bit.
One role of the yoga teacher is to serve. Everything about you is in service to your students, including your voice, your music (or lack of), your language, the breath or postures you choose to teach.
And, the yoga room is a sacred space, this time a sacred time. Unlike the rest of the day, this practice time is filled with nonjudgement, no competition, and, here's the biggie, trust.
Trust in you, the teacher.
If you lead a decent class; serving the students, truly present with them, really seeing them, the students will feel they can trust you. They'll feel comfortable being themselves. Establishing this trust in your classes is one hallmark of an excellent teacher. Students soften their edges and move toward real yoga—unity with Self, with community, with you. They'll release. They'll trust that you can point the way as they walk the path.
Then, at their most vulnerable moment, lying soft and trusting, eyes closed on the floor, you whip out your phone to take their photo without their knowing? And, going shockingly further, you post it on the Internet. Why?
When I first began teaching yoga, the one thing that struck me more than anything else was the sheer vulnerability of the students, particularly in savasana. That people would lie down just inches from a total stranger (me) with their eyes closed and arms open was (and still is) amazing to me. The barriers are down. Trust is understood. They are counting on you to hold them.
They are counting on you to not secretly take their photo and post it on the Internet to serve yourself.
When I see this (and I see it often) all I can think is why? If you are a teacher doing this or thinking of doing it, I urge you to ask yourself why.
Why do you need the world to know what your students look like in savasana? Do you need validation as a teacher? Do you want the world to know how many people are in your classes? Or where you're teaching? Or how amazing the students seem to feel after taking class with you?
And, might you accomplish those goals without exploiting the vulnerability and privacy of your trusting students?
In discussing these secret savasana paparazzi with several friends—yoga students, non yoga students, and yoga teachers—100% of the people I asked agreed that this was unethical. Some replies I received:
"Gross."
"How is this not risking their job? Anywhere else you'd be fired."
"I would complain to management/owner and never see that teacher again."
"I would fire the teacher (in the case of a private lesson)."
"It's so pretentious."
"I'm never going to a public class again!!"
And with that, I suggest a call to action:
Yoga teachers: please stop taking photos of your yoga students without their expressed permission or, at minimum, their awareness so that they may opt out if they wish. Students should not come to class with the fear that they may end up on the internet later without their permission.
Studio and Gym Owners/Managers: enact a policy in your space that teachers/trainers/therapists may not take photos of clients without their permission, and in doing so risk their employment in your space.
Yoga students: I can't even believe I have to say this, but you have the power to opt out of any photos. If you think your photo may be taken without your knowledge or permission and posted online, you have the power to say no. Let your teacher/studio owner/manager know that you do not want your photo posted online without your permission or awareness.
Love elephant and want to go steady?
Editorial Assistant: Cami Krueger / Editor: Catherine Monkman
Photos: elephant archives