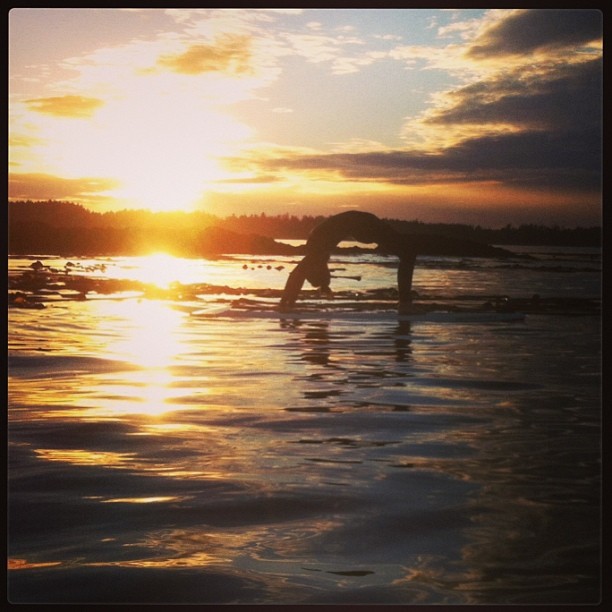 Two years ago, I was sitting in my old office and a cold, red brick wall stared back at me. If I leaned slightly to the right, I could see a sliver of sunlight creeping into the office and hitting a lucky co-workers desk.
Cast in my own shadow, I started searching yoga retreats in Costa Rica (on my lunch break of course). Images of zen filled my screen but one image caught my eye. A girl doing a full wheel on her SUP board. I wanted to do that. I wanted to feel what she was feeling. I wanted to see the world upside down—on the water.
Fast forward to now.
I am sitting in my new office, at my new desk. It over looks a partial view of the coastal mountains and Pacific ocean. Spoiled by huge windows. Natural light. I am wearing a pair of yoga pants. My shoes are kicked off. I feel happy.
When I was being interviewed for this job i.e. dream job, the Vice-President of Marketing said, "Tell me one random thing about you."
My thoughts jammed together and I couldn't think of anything worth opening my mouth for—then it hit me.
"I can do a wheel on a SUP board."
Flashback two years, again.
I was unhappy in my job. Uninspired. Bored; so bored. I knew where I wanted to be but I didn't know how to get there. What do I do when I am feeling lost? I went on vacation to Costa Rica and stayed at a breathtaking yoga retreat. Surfed. Practiced yoga. Felt alive. Even staying solo at the most romantic place on earth, I did not feel alone.
Two weeks after returning from my trip, I was laid off.
I was stoked.
Some would think that was weird but I even high fived my boss. This was what I needed to move on. Scare myself. I was free! Now what?!
Might as well move to my happy place. So I moved to the island, where time moved a bit slower (actually a lot slower) and my imagination ran free. I filled myself up again. I surrounded myself with inspiring people who were doing exactly what they wanted to do with their lives. It was refreshing. The bags under my eyes disappeared and a healthy glow took over my face. I was finally living again.
I visited the beach daily. I surfed. I practiced yoga. And that's where I learned to pull a wheel on a SUP board. The feeling is still engrained in my memories. It was almost surreal. The sun was setting and the water was eerily calm. I remember lying on my back, staring up at the sky with my arms dangling into the ocean. Calming the mind. I then positioned myself and the minute I felt steady enough, I pushed my heart upwards towards the sky. Ten seconds later I fall out and into the ocean with a huge smile on my face. I did it. And then I practiced it again and again as the water sparkled with the setting sun. Epic.
Whenever I feel like my body can't do something or my mind blocks me from my possibilities, I think back to that moment in time and then back again to the image of the unknown girl doing a wheel on her SUP board. The feeling of absolute bliss, power and happiness. Something I wished I could do and then went out and did it.
After eight dreamy months living on the island, I faced reality and moved back to the city. I needed to be present to pursue my career goals. I hustled, networked, cried and laughed my way through the bottomless pit of job hunting, while knowing exactly where I wanted to be but not entirely sure I would ever get there.
We all know the feeling of wanting something so bad. The insecure thoughts of not being good enough but knowing deep down you are. The constant chatter of what ifs?
But if we believe it, we can do it.
And here I am, sitting in my new office, surrounded by an amazing team and so thankful for each email, idea and high five. A management team I only dreamt about. Mentors I have craved for years, who inspire me to be my best.
As one of my mentors recently told me over lunch, "Don't f*ck up."
Best advice I have been given to date.
Love elephant and want to go steady?
Editor: Bryonie Wise

Photo: Heather Hendry