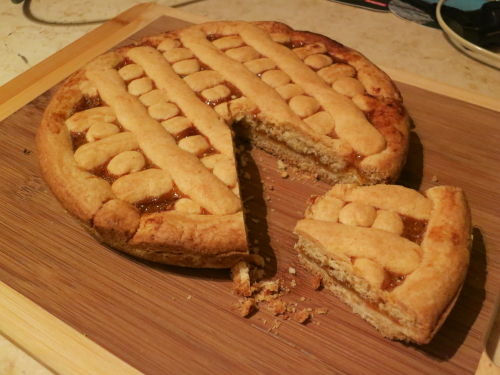 I'm in the third day of my juice detox.
Slow juicing three times a day. Broccoli, strawberries, melon, avocado, fennel, ginger, orange, apple, garlic, olive oil. Anything. As long as it's liquid. And lots of water.
One more evening, tomorrow I'm eating again.
Tonight, I almost cracked.
As I came home from teaching a yoga class, thinking about my next juice recipe, I opened the front door and this most amazing smell hit me.
My husband baked a cake, it was fresh out of the oven. Mouth watering smell. Sweet, freshly baked, home made pie.
I don't need to taste it. I don't care what it looks like. I already know it's the best cake in the world because I haven't chewed on anything in the past three days. And because it's been made with love.
The recipe:
300 grams of white flour
100 grams of sugar
1 whole egg + 1 egg yoke
125 grams of butter or margarine
1/2 teaspoon of yeast
a pinch of salt
250/300 grams of your favourite marmelade (he used home made orange marmelade, courtesy of an Italian friend a.k.a. cooking goddess)
some icing sugar
some extra butter and flour for the baking tray
1) Arrange the flour on a pastry board with a gap in the middle, adding the sugar, the eggs, the soft butter, the yeast and the salt in the hole.
2) Mix the flour bit by bit with the ingredients in the middle, quickly working it into one big ball of dough.
3) Put the dough in a bowl and cover with plastic film. Leave in the fridge for 30 minutes.
4) Grease the oven tray or spring form pan (approximately 24 cm diameter) with butter and sprinkle with flour.
5) Divide the dough in two, almost equal halves. Take the slightly larger half and cover the bottom of the baking form with it by pressing it down with the palm of your hand. Use some extra flour to prevent it from sticking to your hand. Make sure it is evenly spread.
6) Pour the marmelade onto the dough and spread evenly, leaving the rim marmelade free.
7) Roll and cut thin strips from the remaining dough and crisscross them on top of the marmelade. Remember to keep sprinkling flour on your hands and board.
8) Decorate at leisure with whatever dough is left over.
9) Bake in a 180 degrees Celsius preheated oven for approximately 30-40 minutes.
10) Weight for the pie to cool down before removing from the baking form and sprinkle with icing sugar before serving.
Enjoy.
I know I will…tomorrow…if there is any left.
Love elephant and want to go steady?
Editor: Rachel Nussbaum
Photo: Courtesy of author