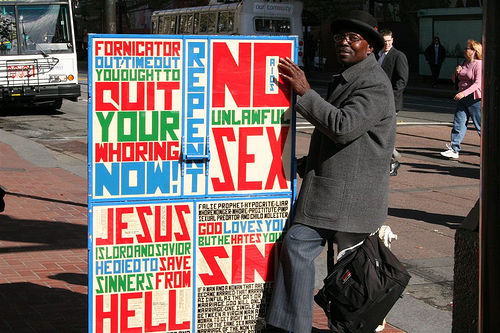 Yes, I love Jesus.
This proclamation often comes with negative judgments and assumptions from my friends, and even my own family, since I began taking a deeper dive into my faith.
I think there is some confusion as to what it means to be a follower of Jesus.
No, I'm not a "Holy roller," religious, "churchy," or judgmental of others who do not hold the same beliefs. I do not think I'm better than anyone or getting into heaven ahead of anyone. I am not a super conservative, I don't hate gay people, I do not watch Fox news, and Sarah Palin scares me a little.
Now that I got that out of the way…
I just love Jesus; he inspires me and my life has become more full and enriched by following Him.
He was not a theologian or deep philosopher; he just loved people immensely and wanted them to be released from the pain and suffering that life brings and for there to be spiritual freedom for all. He wanted all people to know that they were loved and that their life had meaning and purpose.
He was a compassionate pacifist who preached non-violence, serving the poor and the condemned. He spoke of generosity and the incredible importance of relationships. He respected women and did not preach that they submit to men (something that was unheard of at the time in a male-dominated culture where women were regarded just a little bit more than farm animals).
Jesus was bold and took many risks to spread his message of love, acceptance, and forgiveness.
He went against culture, society norms, and the laws of the day to fight for the spiritual freedom of every single person. I admire his tenacity and courage to do what he felt was right in his heart and act on it against all the odds.
Jesus loved and chose all the wrong people to help spread his message; he was drawn to sinners and underdogs.
From the outside looking in, one could view this as completely irrational and irresponsible; why not choose more powerful and well respected "religious" leaders to help spread his message?
Because he thought those "churchy" types were hypocrites.
However, Jesus had respect for—and saw strength and greatness—in people who had been written off by most of society. In return for the trust and forgiveness, Jesus so freely gave to people that others would deem as unworthy and unclean, they felt compelled to spread his message of love, compassion, and forgiveness.
And spread it they did…2000 years later, people are still being inspired by the message of Jesus in spite of several opportunities and chances for Christianity to be obliterated throughout history.
I understand that the message of Jesus often gets lost in the "fan clubs" that were created in his honor.
Many people and establishments over the years have put their own spin on what the message of Jesus means, but that does not necessarily mean that their interpretation is actually the message of Jesus—it's just that…their own interpretation.
I find it frustrating that my personal faith is often judged based on someone else's (including an institution's) own interpretation, especially when that interpretation includes hate, prejudice, and intolerance.
None of that is the message of Jesus.
How do I know?
I have actually read his teachings in The New Testament to figure it out for myself. I was not content with having "blind faith" or making judgments of the teachings of Jesus based on his many fans and fan clubs.
I studied the history of the times to give his teachings' context and to truly gain an understanding of what Jesus and his disciples were up against.
Once I did, I fell in love with his message of love.
This has inspired me to live a more loving, forgiving, compassionate, truthful, non-judgmental and generous life; if all of this makes me a "Jesus freak," I'm okay with that, because it has changed my life, and the lives of the people I come into contact with, for the better.
I realize that people will still have negative connotations of Christians and Christianity as long as the fringe Jesus fan clubs receive attention (the guy holding the sign that says "Jesus hates gays" or the super conservative who gets air time by judging others lifestyles doesn't really help in overcoming the negative stereotypes associated with Christians).  It has been my personal experience that the loudest and most opinionated Christians and the loudest and most opinionated anti-Christians usually have the least amount of knowledge about the message of Jesus…go figure.
However, I truly hope that one day when anyone hears the name "Jesus" or finds out that someone is a "Christian" that the first thing that pops into their head won't be a negative connotation, but rather they will think of love and compassion.
If this is achieved, Christians will have fulfilled the highest and greatest command of Jesus.
A new command I give you: Love one another. As I have loved you, so you must love one another. By this everyone will know that you are my disciples, if you love one another.
~ John 13:34-35
Love elephant and want to go steady?
Editor: Jenna Penielle Lyons
Photo: Kris Krug/flickr