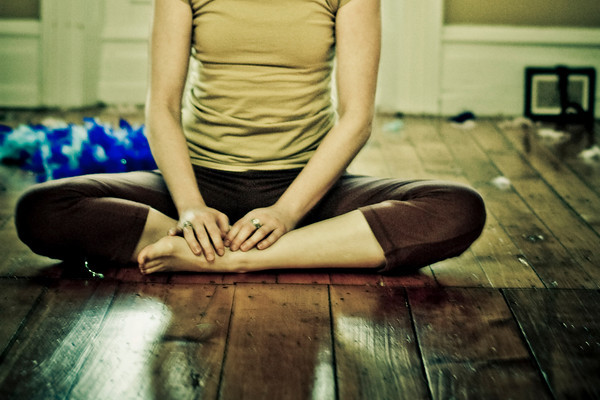 For many people, yoga is for leisure time or exercise, something they leave behind when they head to work.
Jamie and Maren Showkeir have created a wonderful tool for taking our yoga "off the mat" and into the workplace. When I started reading Yoga Wisdom at Work: Finding Sanity off the Mat and on the Job, I'll admit I was feeling a little jaded. If you've been in the yoga community for any length of time, or to the point of exploring yogic philosophy, the idea of taking our yoga "off the mat" can become a cliche. I was pleasantly surprised to find that the Showkeirs not only break through this cliche into practical daily applications of the yamas and niyamas, but manage to do so in a way that is accessible for people of all walks of life.
In addition to exploring each of the eight limbs of yoga, each of the yamas and niyamas are explained in lay terms, and each is paired with a list of suggestions for ways to incorporate these values and codes of conduct in our work lives. It's great to talk about these things in a yoga setting, like a workshop or festival, or even in at our favorite shala or studio, but if that's where it ends, it isn't doing us much good! Many people become curious about yogic philosophy as their practice deepens, but many of the books available are a few jumps ahead of where one might want to begin. Jamie and Maren have managed to break these ideas into manageable chunks for the curious yogini who might not be ready to dive head first into Patanjali's Sutras. But the same time, they do it without watering down the ideas; they have taken a fundamentally Eastern philosophy and translated it for the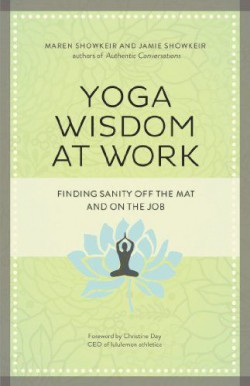 Western practitioner.
When I got to the section on pratyahara, I was curious to see how they would address this. It's easy to think of how pranayama or breathing practices help during the day, and how keeping our values in check at work as necessary, but pratyahara? As someone who daily wrestles with keeping my attention focused, I was excited to see this addressed. Pratyahara is the limb of yoga that deals with "withdrawal of the senses." The purpose of this practice is to gain mastery over the senses, rather than being tossed here and there by every little distraction. The Showkeirs' suggestions for practicing pratyahara during the workday have been a huge help to me—especially the part about setting aside time as a "technology fast."
Throughout the book, Maren and Jamie incorporate quotes and passages from classic yoga texts, stories and anecdotes that show these principles in action, and concrete examples of steps anyone can take to apply them every day. They don't shy away from using the Sanskrit yoga terminology, but do manage to explain the philosophies without resorting to insider jargon or buzzwords. This would be a book I could just as easily recommend to a stressed out massage client who has never considered stepping onto a yoga mat as I could to a die-hard yogini who is looking for ways to bring her work life into alignment with her practice. It will be a book I recommend to anyone who is looking to make the leap from an asana practice to living yoga in her everyday life.
Note: elephantjournal.com received these review items for free, in return for a guarantee that we would review said offering. That said, we say what we want—good and bad, happy and sad.
Love elephant and want to go steady?
Editor: Rachel Nussbaum

Photo: elephant archives