We started a new class at the Shambhala Center last Wednesday based on The Profound Treasury of the Ocean of Dharma by Chogyam Trungpa.
The Profound Treasury is a three volume set of teachings taken and organized from the 13 three month long seminaries that Trungpa Rinpoche taught in North America from 1973-1986. Described as a spiritual atomic bomb, this work, in my opinion, will come to be known as the ultimate and best source for learning the complete path of Tibetan Buddhism in the English language.
In our first meeting we worked with contemplations from Lesson one of the online offering from Acharya Emeritus Judy Lief, who compiled and lightly edited these teachings, and the topic my group received to contemplate and discuss was, "Why is the absence of frivolity so important in the hinayana path?"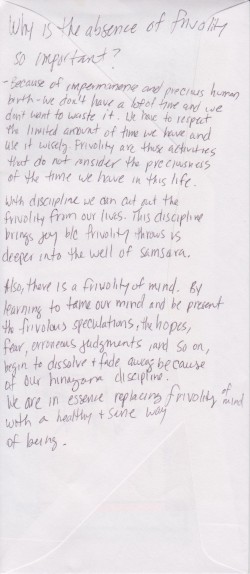 We jotted down our thoughts during the contemplation period so that we could share them with our group. I jotted my thoughts down on this envelope, and thought I'd write them out here.
At the beginning of the path, emphasized by a commitment to sitting meditation practice in our lineage, we begin to learn what to accept and what to reject. We begin to see what was causing our suffering and begin to move towards the light, so to speak.
My thoughts on the absence of frivolity consisted of these three points:
1. One of my favorite practices is contemplating the Four Reminders that Turn the Mind Towards the Dharma. Two of these are Precious Human Birth and Impermanence. In contemplating impermanence we see clearly and consciously that we only have a short time to be alive in this life. The years seem to fly by the older we get.
Precious Human Birth is about recognizing how fortunate we are to have been born human and to be living in a situation where we have heard the teachings of the Buddha, and have the opportunity to practice (having our basic needs met). Considering these two factors we can learn to appreciate the time we do have and try not to waste it. Frivolity is not recognizing these factors and acting in a way that creates further suffering for ourselves and others.
2. Discipline is the mechanism of actually doing what is of benefit to ourselves and others and not letting ourselves fall into our harmful patterns. In this way discipline leads to joy, which leads to further discipline, and so on. From taming our mind with our practice we begin to be able to have some control over our state of mind. In this way discipline leads to increased productivity. Also, this discipline becomes natural and something that we appreciate and take pride in. It is not imposed from anywhere or anyone else, as Trungpa Rinpoche states in The Profound Treasury.
3. Finally, the activity of our mind becomes less frivolous as we begin to practice on the hinayana path leading to a happier, more sane, and meaningful life. So much of my own suffering in the past was caused by all of the nonsensical, erroneous thoughts that were constantly playing in my mind. These thoughts led to depression, nihilism, and the inability for me to enjoy my life and be of benefit to others. By learning to be present, content, and appreciative of life as it is, the frivolity of my own mind began to significantly fall away to be replaced by sanity, clarity, and peace. This has been the biggest gift of my life and is why the absence of frivolity is so important.
Love elephant and want to go steady?
Editor: Rachel Nussbaum
Photos: Jade Buddha, Travis May