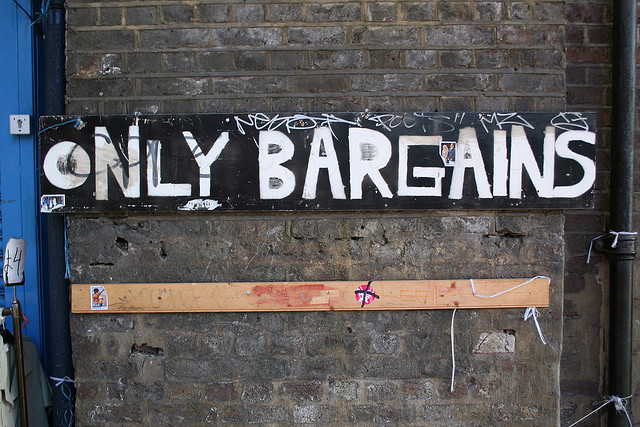 How do we devalue yoga?
Let me count the ways:
1. Groupon.
2. Living Social.
3. Daily Deals.
4. Local Deals.
As a consumer, these deals can be tempting. As a business owner, they can be equally tempting, but ultimately devastating.
Ten classes for $50?
1 month for $30?
3 months for $60?
Wait, what?
If a whole month (or a whole summer) of yoga costs less "in this incredible limited-time offer" than a handful of classes cost last week, let's put our good yogi powers of discernment to work before we click buy.
What is the appeal here: the practice offered or the deal itself?
Are we nourishing ourselves by trying a new style or teacher, or are we furthering consumerism, buying for the sake of buying? This requires self-awareness, among other things, that blossoms as we practice, so the newbies get a pass on succumbing to these deals.
I'm not suggesting that discount offers are inherently bad (although some quick math can illustrate their devastation to the business of yoga), but let's consider what were buying at a "Deep Discount." Grabbing these deals as they pop up means we'll be hopping from studio to studio, teacher to teacher, hoping to scrape together a little enlightenment.
In the long tradition of yoga, we find a teacher whose words land on us, giving them time to sink in. We practice with burning zeal, and transformation takes place over years, maybe decades.
Bargain-hunting seems to lie outside this framework.
Eating exclusively from the bargain bin of dented cans at the grocery store may not make us sick right away. Reading only the free books on our e-reader may not leave us thoroughly bored in the short term. But in the long-run—where we humans tend to miss the boat—we won't be serving the parts of ourselves that most deeply need nourishment.
Yoga is an ancient science that, at its core, teaches us to be discerning—to shed the layers of illusion that inhibit our natural intelligence as humans. Along the way we may also score open shoulders and drop a pant size, but those are superfluous to the ability to make good choices.
Choose yoga because it is good for the body and mind.
Not because it's on sale.
Love elephant and want to go steady?
Apprentice Editor: Kim Haas / Editor: Renée Picard
Photo: Stuart (silverfox09) on Flickr