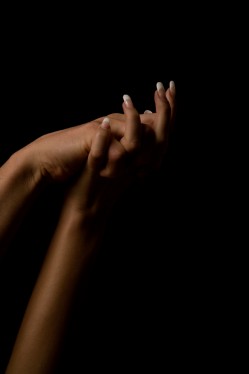 you rise up before me, broad and beautiful and smiling
you gently push the hair back from my face
and then grab a fistful, pulling my head back to ravage my mouth.
we laugh, because even here,
tangled in sheets and sweaty limbs and lust,
we are on an adventure.
you are strong,
and when i am with you
to be strong too.
you dare me to be myself—
i dare you to be free.
"I want to see you," you said.
yes—i 've wanted to see me,
reflected, in another's eyes,
the way that you see me.
full of sunlight
hopelessly distracted
crooked glasses
laughing through a mouthful of oatmeal
nose lost in a book
head tossed back in passion
eyes dreamy with sleep
me.
just me.
let's get lost underneath the covers
or maybe take a walk down the beach
and see
how much we can discover
how much we can learn
of you
of me
of us
of the moonbeams and the peach trees.
life is short
but I have a feeling
i could spend
forever
climbing mountains
surfing waves
exploring the shadows of your body
the depths of your eyes
the joy
of your smile.
Love elephant and want to go steady?
Editor: Renée Picard
Photos: Pixoto, elephant archives