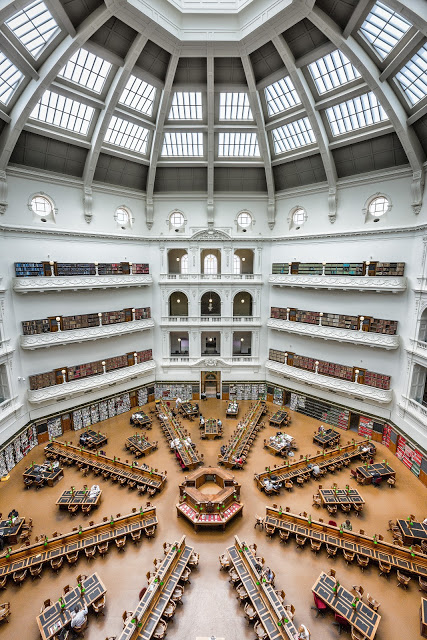 April 13-19 is National Library Week.
When I was in elementary school, library day was my favorite day of the week.
Yeah, I was that kid.
I remember going through a phase where, week after week,  I brought home the same series of books that I couldn't yet read by myself, filled with Norwegian phrases that drove my mom crazy.
When I had kids of my own I asked the librarian at the Tempe Library to help me find those books. I had limited information: three girls named Flicka, Ricka and Dicka and they spoke Norwegian. Within minutes, she found them for me.
I was able to literally hold a piece of my childhood in my hands and share it with my daughters.
In junior high there was a small library down the street from us, housed in what used to be the rectory of a church. That felt right. Libraries have always held a certain sacredness to me: the stillness, quiet, the awesome presence of all those writers and stories surrounding me.
I'd curl up in a big chair, pulled up to a huge mahogany table, the sun filtering in through high windows, dust motes dancing in the air, until I was bathed in dusk then darkness, losing myself in other worlds.
In high school the library was where I met my friends to sometimes study but mostly to talk and French braid each other's hair.
As a young mother I took advantage of all that the library had to offer from story times to children's activities and fairs. I was even able to take a Mother's Write Class where I wrote with other moms while somebody else entertained our kids out in the library. Heaven.
The whole concept of libraries still leaves me a little breathless. You mean I can just walk into this building filled with books and take them home? For free? 
It  sounds too good to be true.
The theme for this year's National Library Week is "Lives Change @ Your Library."
I know for sure that libraries have impacted me throughout my life.  They were a refuge in times of adolescent turbulence, a safe space to just disappear into stories, allowing me to escape whatever angst I was experiencing.
They helped provide free entertainment to my children when they were little, and provided this mom with a little help in the sanity department.
Today the system is so easy to use with on-line tools that I can request a book from any local library and have it delivered to mine within days, helping me to keep my book buying habits in check.
I still feel that sense of awe when I enter a library today. I often just run my fingers along the spines of all the books as if absorbing the energy and creativity of the writers by my mere touch.
Now that I am a writer myself, feeling the presence of all those writers, past and present, inspires me. Comforts me.
Libraries comfort me, providing some white space in an otherwise jam-packed world.
I seek refuge there.
Solace.
Information.
Inspiration.
And all for free.
Love elephant and want to go steady?
Editor: Renée Picard
Photos: John Williams at Pixoto