Yet how can we be in love if they aren't too?
It's not possible.
Being in love with someone implies they are also in love with us, period. This is an important distinction, not just semantically, but also because it can change the way that we understand and process our thoughts and feelings.
Being in love with someone is a shared experience.
That experience may be balanced i.e. each partner is in love as much as the other, or it may be imbalanced i.e. one partner is more in love with their partner than the other.
Regardless, if we feel that we're in love with someone and it isn't reciprocated, then make no mistake, we're not in love with them.
We may have love for them, we may just in fact be infatuated with them, or it may just be a lust for them—but we're not in love.
This will change our entire mindset about the feelings we have and how to process them. If we believe we're in love when they're not, it can be extremely unhealthy.
Examples include:
• Stress and worry
• Jealousy and resentment
• Insecurity and self-doubt
• Sadness and disappointment
• Anger and pain
• Obsessiveness and possessiveness
• Self-victimization and self-disrespect
Yet if we have strong feelings for another who doesn't feel the same way, and we understand that being in love is a shared experience, then why would we want to be with that person if it's not a love shared?
We wouldn't.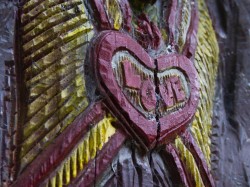 We'd want to find a partner that would also want to share that experience with us. This would effectively help us to move on from that state of mind more efficiently.
None of us want to live without love, yet none of us want to devote ourselves to another person who doesn't feel the same way.
Therefore, we should't hold onto false love because we're only hurting ourselves, as well inhibiting a genuine shared love from being realized in our future. Get our ego the hell out of the way and let real genuine love do what it does best.
First step: We can move past our ego and fall in love with ourselves.
Love elephant and want to go steady?
Editor: Renée Picard
Images: Pixoto / flickr