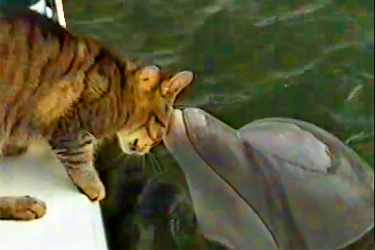 This video has been making the rounds and was originally recorded in 1988.
As cute as it is, it was recorded at Theatre of the Sea, a marine mammal park that has been reported to PETA for violation of the Animal Welfare Act. (See below.)
To be fair, the Theatre of the Sea site does claim to be a rehabilitation and release facility, only keeping the animals that are unsuitable for release to the wild. It's unfortunate that "ticket sales" to dolphin (or other) entertainment shows is required to sustain their good works.
http://youtu.be/qYxkD_vPD1Y
The video shows the gentle, loving nature of dolphins (and a cat!) and reminds us that animals do no harm. Let's return the favour and stop the gruesome act of dolphin hunting.
The following is borrowed from this page on PETA.org.
For Immediate Release:
August 26, 2013
Monroe County, Fla. 
This morning, PETA sent an urgent letter to the U.S. Department of Agriculture (USDA) asking for an inspection of Islamorada-based marine-mammal park Theater of the Sea, which—according to a concerned visitor's report—is keeping a dolphin named Sherman in constant isolation from other dolphins, even though federal law generally requires that dolphins be housed together. The visitor also reports that Sherman is the only dolphin at the facility who is forced to perform in shows, which he reportedly does several times every day in addition to interacting directly with the public, which may leave him overworked and stressed, in violation of the federal Animal Welfare Act.
"Dolphins are social beings who desperately need the companionship of other dolphins—yet Sherman is reportedly kept alone without the comfort of other dolphins," says PETA Foundation Director of Captive Animal Law Enforcement Delcianna Winders. "PETA is calling on the government to intervene in this apparently overworked, lonely dolphin's behalf—and on all families to stay far away from cruel marine parks such as the Theater of the Sea."
In their natural habitats, dolphins swim up to 100 miles each day with their family pods, with whom they communicate through whistles and body language. When dolphins are injured or dying, others will come to their aid, supporting them at the water's surface so that they can breathe. In marine-mammal parks, dolphins are separated from their families and forced to perform confusing tricks and swim in endless circles in barren tanks that, to them, are the size of a bathtub.
Love elephant and want to go steady?
Editor: Renée Picard
Photo: screenshot from video