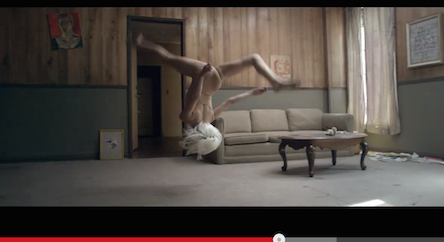 Remarkable Dance Improv*…by a Girl.
Heads up on this Wow Art came from one of my favorite local mommas, through NPR:
*"A video for Sia's new single features a mind-boggling performance from 11-year-old dancer Maddie Ziegler. The elaborate routine was choreographed by Ryan Heffington; Sia co-directed…"

Sia – Chandelier (Official Video)
The official director's cut for "Chandelier" directed by Sia and Daniel Askill, featuring Maddie Ziegler of Dance Moms. Download "Chandelier" on iTuneshttp://smarturl.it/SiaChandelier New album "1000 Forms of Fear" coming this summer. 
Amazing bonus via Sia (I'm watching this, and the above, again and again):

Sia sings the song she wrote with Benny Blanco for Rihanna "Diamonds" and performs it with famed producers Stargate at the Norweigan-American Achievement Award ceremony – November 28, 2012.
Relephant bonus:
Relephant: