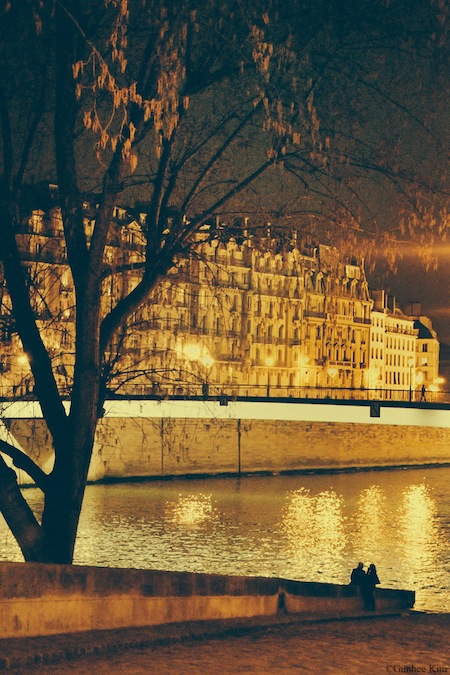 I'd like to fall in love with you without you or I even knowing it.
They say that love comes softly but I've never known this. I fall in love too easily, and always too quickly. With you, who matter, who so deserves to be loved by a full and steady heart, I would like to fall in love with you slowly, slowly.
I hope the adventure of falling in love with you will be just as important as—or perhaps more than—that moment when I actually realise that I love you.
I want to be your friend first—to feel so utterly unfazed, not in the least bit nervous, when you send me a text or drive round to pick me up for a late-night supper snack. I want to be able to laugh hard, with my head throw back, loud and boisterous, smack you on the arm and tell you you're a dumbass for your bad jokes. I want to feel so myself around you that when you say another daft thing and I laugh, suddenly, I snort juice out my nose and don't even feel embarrassed.
I will tell you things that I reserve for only a few people—things that are either completely ridiculous or completely shameful—and know that those things will remain in a safe place with you. Because we're such good friends, we have a good chuckle over it and our friendship takes the big-dealness out of it all so I don't feel so bad or sad or embarrassed by it anymore.
Perhaps one of us will make a terrible mistake, do something that is completely against what the other person believes in or stands by. Perhaps something shakes up our friendship and we wonder if we can really be friends. We will argue or have awful debates about trivial things, important things, big and small things. Always, you frown into your coffee cup and I can see your eyes narrowing. You don't like this; you find it difficult to understand my point of view and I yours.
Eventually, maybe, we agree to disagree, and oddly, over time, all these differences only make us closer because we like that each person has such passion about something even if it's at odds with the other. I will like that passion alone for it will show me how alive you really are.
Sometimes, you will get angry at me for decisions I make. You spend heated coffee sessions trying to point out how silly I'm being but you can't quite articulate it. I am a stubborn girl and the more you disagree with something, the more I will insist on doing it.
I'll be fine, I tell you, but you huff and you puff and you almost smother me with disapproval.
I pretend like I'm offended but really, I smile on the inside because it shows that you care, that you can't bear to see me tumble into something that will hurt me. In the end, as much as I won't admit it, I usually follow what you tell me.
I want to watch stupid superhero movies with you and stuff popcorn in your ears at the most exciting part. I want to stuff my face unashamedly in front of you and not feel fat or greedy or slovenly. I want to spend the whole evening telling you about this one obscure modernist book I read in university and you listen, even if you've never heard of the author; you ask questions about it, compare it to other books, tell me it reminds you of something else you read last year.
I want to hang out on your sofa while you listen to the same whiney ballads on repeat, if you know I hate ballads.
I hope it will be you I think of instantly when I see something funny or sad or amazing—where I think, "Oh, I've got to show this to _____!" or "Oh, _____ would love this!" I crack a joke in my head, something you might say, and I laugh to myself about it. I want it to be that you're the first person I text when I get good news and that I'm the first person you ring when you've had a shit day at work and need a rant.
You are in almost every part of my life, without even trying to be.
And so, I'd like to fall in love with you one day when I find out that somehow, I'm also in every part of yours.
Relephant: 
Love elephant and want to go steady?
Editor: Renée Picard