Do you love elephants? I do!
I always have.
I've loved them ever since my first and only encounter with a baby elephant at London Zoo in my 20s. With the elephant being so small, I was able to look straight into his soulful eyes and at that moment I felt a connection.
Sometimes we forget how deeply rooted we are to nature, to the land and to elephants.
Last night, I was reminded of that connection through the lens of film maker Mark Deeble's stunning documentary film about the life of a Sycamore tree.
I was fascinated to learn of the contributions from elephants to our existence in the wonderful and beautifully documented film by Mark, The Queen of Trees:
"It is an ecosystem of a tree. There are animals whose lives so depend on the tree that they cannot exist without it, and vice versa. In the two years we spent filming, we barely scratched the surface of the web of interconnectivity that the tree was central to. The sycamore fig is vital to animals ranging from ants to elephants." 
We Are All One. We Are All Connected.
As Zen Buddist monk and author Thich Nhat Hanh so eloquently writes in a passage titled "Interbeing" (from his book, Peace is Every Step), "To be is to inter-be. We cannot just be by ourselves alone. We have to inter-be with every other thing."
So why bother with elephants? Deeble answers with:
"The scientist in me was the first to answer, for diversity in ecosystems reflects a more vibrant, interesting, and robust life-support system for the planet. Elephants play an important role. They are key-stone species, terrestrial-ecosystem architects, and gardeners without parallel.
In tropical rain forests elephants spread seeds up to fifty kilometers from where they ate them. The seeds of a particular species of Balanites tree are dispersed only by elephants. It is simple – no elephants, no trees. We still don't know how important that tree is, but we do know that similar trees, whose seeds are spread by elephants, support hundreds of different species of animals and plants."
After watching Deeble's powerful film, I was reminded of how important all life is and how we must protect all species.
I went to bed with a heavy heart. During the night I dreamt this image: Connected, the elephant and the child journeyed through the magical moonlit sky, sowing seeds of love and mindfulness with every step.
Very few of us will ever have the privilege of experiencing elephants in the wild.
I dream of one day volunteering to help orphaned elephants but until then, what can I do to help? I can use my creativity and imagination to help raise awareness for these animals.
How can you help?
The below poster is a gift from my heart to you for our beautiful Elephant friends.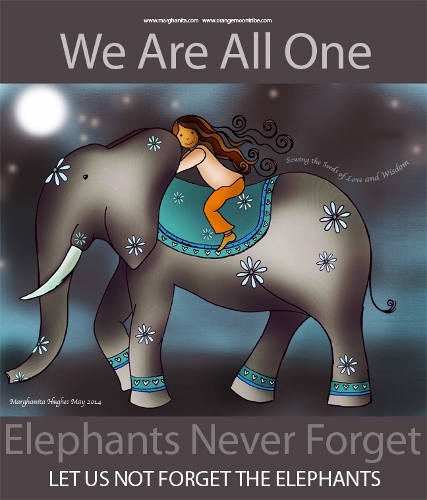 I invite you to celebrate these amazing gentle giants and help raise awareness of the important role they play in the circle of life by downloading and printing the image.
Pin it up to remind you and your loved ones of our deep connection with these amazing animals. Send it to a friend. Share it with your friends at work. Take a copy to your local school.
Let us not forget the elephants.
Let us be mindful and full of gratitude for all the animals, insects, plants, trees and all living things.
If we practice compassion and mindfulness daily and nurture it in our children, it offers hope for humanity, for the elephants and all other living things including our beautiful yet fragile little planet.
Thank you to Mark Deeble for his love, compassion and ability to truly appreciate elephants—not only for their abundant love and beauty but for their contribution to mankind, the ecology and the other animals.
Wishing you all a beautiful and enchanting week in nature, love and peace.
Love elephant and want to go steady?
Apprentice Editor: Carrie Marzo
Photo: Adéle van Schalkwyk / Pixoto, Original artwork by Marghanita Hughes