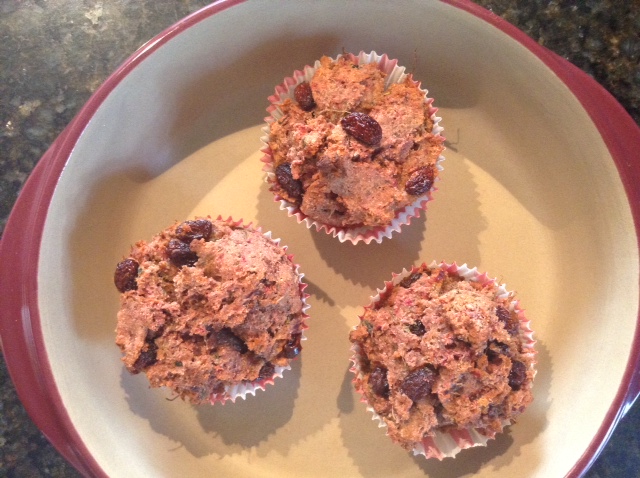 How on earth did I manage to survive until now without a juicer??
I'd thought it be too expensive and wasteful to juice—all that valuable fiber filling the compost instead of my stomach. But I got a Salton Vitapro and a pulp non-fiction muffin recipe that got me giddy and now I'm a daily juicing addict!
I modified the original recipe a little, but even as a novice from-scratch muffin maker, the first time I made them I promptly ate three straight away—yum.
Without further adieu, the what-have-you and how-to-dos…
1. Get your juices flowing.
My cup of morning glory: carrot, celery, parsley, beet, turmeric, ginger and cucumber.
Notes: chop celery into 1-2" pieces across to avoid the stringy bits clogging up the juicer. For ultimate digestibility, I like to keep my veggie and fruits separate, the carrots and beet add enough sweetness for my liking, but do whatever works for you.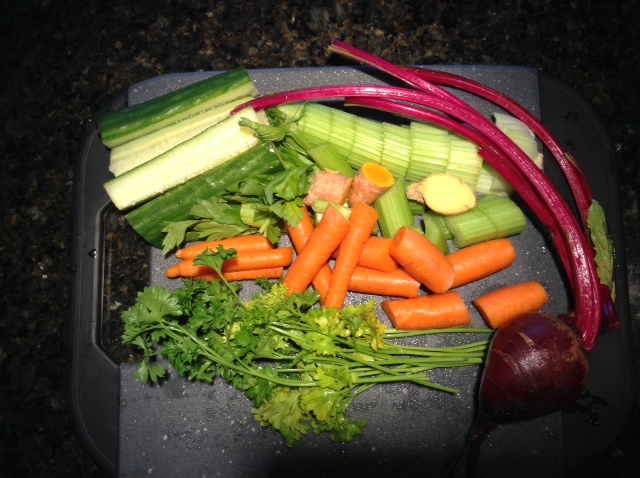 2. Collect pulp. 1 ½ – 2 ½ cups.
(I used 1 ½ cup approx which produced 12 smaller muffins.)
3. Preheat oven to 350º.
(If using a counter top convection oven, save energy by pre-heating after getting your ingredients.)
4. Ingredients:
1.5 cups of gluten-free flour (I used half generic gluten-free mix and half coconut flour)
1/2 cup oil (I used olive oil but Jennifer suggests coconut oil, which is healthier¹)
1/2 cup honey (or a sweetener of your choice, though a dry sweetener may change consistency)
3 flax "eggs" (1 flax egg = 1 tbsp flax + 2 tbsp water, stir and let sit a few minutes. I used 3 eggs, but they were organic, freedom-field-running happy hens, I swear.)
1/2 tbsp vanilla
1/2 tbsp baking soda
1 tbsp cinnamon
½-1 cup raisins (or any other dried fruit—next time I'm trying sour cherries!)
5. Mix all together, add to muffin tray filling approx ¾ full.
(They don't raise much may with a 1/2 tsp of baking powder added.)
6. Bake for 30-35 minutes-ish. (Depending on how full each cup is.)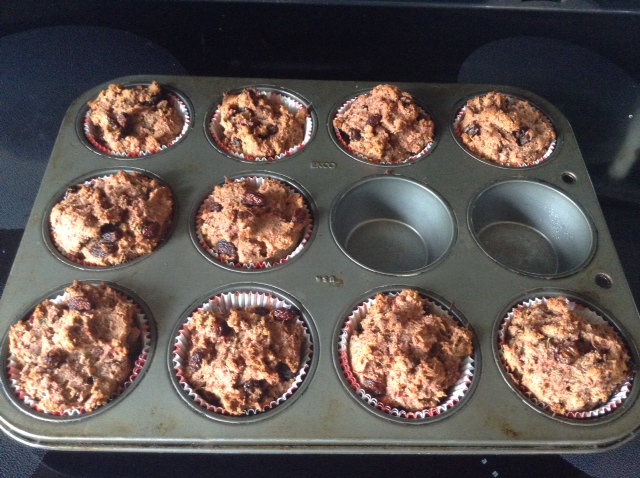 7. Remove, cool your jets—but heck, do eat while warm if you can't wait.
Other options:
1/2 tsp nutmeg
Dark chocolate chips/cacao nibs/carob chips or nut mix.
Warning: The following suggestions haven't been kitchen tested yet. If you try them before I do, please leave a comment and let us know how they turned out! (Also, feel free to add links to other tried and true juicer pulp recipes.)
AJ Fruity Alternate: Try the recipe with juicer fruit pulp (citrus if seedless) and add some orange and/or lemon zest to the mix. (Nix the cinnamon.) Or apple/pear/shredded carrot. (Keep cinnamon or get crazy and go with 1 tsp cardamom instead!)
AJ Savory Alternate: Use veggie pulp but try a hearty choice by swapping out the honey for sun-dried tomatoes, shredded zucchini and pine nuts. (Skip the coconut flour and go with a less sweet flour here, too.)
Xo
¹Sources say not to heat olive oil above 325º whereas coconut oil can be heated much higher without negatively (health-wise) changing its chemical properties.
Love elephant and want to go steady?
Editor: Travis May
Photos: courtesy of the author