Set sweet summertime intentions, beginning with number one:
Make a list.

Be grateful.
Start a journal. This is where we will keep our gratitude.
Smile with the rising sun. Contemplate.
Wake up early, unless you don't.
Take your practice outside the mat. The grass, the water, the slack line.
Serve yourself a slice of humble pie weekly.

Say yes to travel. Experience long car rides.

Do not complain about the hot weather. Especially if living in Albany, New York.
Identify with things that are bigger than you: the water, the sun, the grass.
Never pass up a farmer's market.
Eat as close to this earth as possible, especially eating plenty of in-season fruits and vegetables.
Cut out all the processed crap. It's summer time, think local watermelon, peaches and zucchini.
Stay hydrated. Sweat in the sun. If we're not sweating, we are dehydrated and we will burn.
Stay hydrated with water. Pure. From local springs if possible. Go plastic-free.

Coconut oil. For everything. Skin, hair, coffee.

This summer, see if you can avoid the pharmaceutical companies. Create your own medicine from herbs, aloes, oils, and salts.
Live music. Listen to all of the live music. My favorites: Trevor Hall, Edward Sharpe, The Avett Brothers.
Give back. Volunteer.
Smile…because this life is pretty damn amazing, and if we're too busy to make time to smile, it's going to pass us right on by.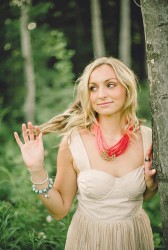 Love elephant and want to go steady?
Apprentice Editor: Chrissy Tustison / Editor: Catherine Monkman
Photo: via Flickr, second photo: JP Elario of Katie.