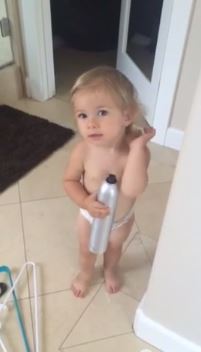 Warning: F bombs straight ahead.
We shouldn't laugh…
The first time my daughter, who is now 10, dropped the "f" bomb, she was around two years old. She joined me in my bed while we were waking up. We had two cats at the time and they started being, well, cats: "Those fucking cats!"
There was no stifling my laughter.
I was caught off guard—her precious little voice, that great big mother of all swear words.
"Baby, you can't say that word. It's a bad word." She laughed back, "OK, Mommy." Retelling that story now and even after it happened, I realize I never told her which word was the bad word. Obviously she heard me say it, so sure, it was a fair word to her.
She did say it again around the same time with her dad. They were driving to daycare when he ran into someone blocking the road. He dropped the "f" bomb and from the backseat came, "Yeah, ya fuckers!" He quickly recoiled.
Her reply?
"Damn it."
Yes, we should really use better words to express ourselves in a more refined manner, especially in front of our kids. We try. We fail. We try again…
This little girl slayed me.
Love elephant and want to go steady?
Editor: Travis May
Photo: YouTube video still