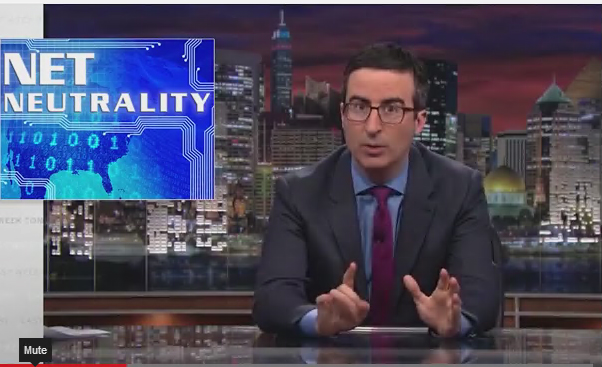 First, a little background—Net Neutrality. Heard about it lately? Not quite sure what it means? It's something bad right?
Not quite – Net Neutrality is actually the thing we want to protect!
Net Neutrality is the principle that Internet service providers and governments should treat all data on the Internet equally, not discriminating or charging differentially by user, content, site, platform, application, type of attached equipment, and modes of communication.
No preference given to any particular party or content, that is, everyone has the same, equal opportunity to share whatever content they choose over the internet.
That's how it has been… but that may be going away very soon, and that  is what we need to concern ourselves with!
Why is it going away?
Cable companies want to monopolize the internet for their own selfish purposes!
Is this still not making much sense? This is the case for many people!
A few nights ago, John Oliver discussed how one of the biggest problems (for us, the people) is that information on this topic is not being presented well!
To put it simply, coverage on this topic has been boring. Even for those who try hard to tune in, the information is confusing and hard to sift through.
If you haven't watched it yet, please check out the video below. It contains important information that we all need to know!  It's a bit of a longer clip (a whopping 13 minutes), but well-worth taking the time to watch.
Anyone and everyone who uses the internet (Yes, that means you!) needs to watch this video!
The best part is that this vital information is presented in a funny and entertaining way, so there's really no excuse not to be informed on this topic.
And perhaps, after watching the clip, you may feel inspired to send the FCC a note expressing your thoughts on the matter. Certainly, it inspired others to do so!
In fact, the response to John Oliver's segment was so great, that in the days that followed, the FCC actually received over 22,000 comments and experienced a site overload!
Finally, now with a bit more understanding of the impeding threat of "Cable Company F*ckery," people are using their voices to speak out against the possibility of losing net neutrality!
This is a good thing—let's keep the momentum going!
Please continue to send comments to the FCC, telling them how you feel about this issue. Keep talking about it! Keep sharing the John Oliver video, so that more and more people can gain an understanding of what is happening!
Let's band together, turn the CAPS-lock on, and strive to prevent Cable Company F*ckery!
Love elephant and want to go steady?

Editor: Travis May
Photo: YouTube screen-shot