Is there anything mushrooms can't do?
From cleaning up oil spills, to tasting de-freaking-licious sautéed with garlic and onions, mushrooms are undoubtedly some of nature's most incredible (and important) creations.
Fungi is actually more closely related to humans than to plants, and almost all plants are inextricably dependent on the mushies (or Mycorrhizae, if we're getting all bio-jargon-y here) for their nutrient uptake.
In short, without a fungus among-us, the natural world could not function as it does now, and life, let alone human life, would cease to exist.
Convinced mushrooms rule the world? Me too. And here's one more reason to love these fun-guys (mushroom puns are the worst best): they might just be the future of green architecture.
MoMA PS1's newest installation, the "Hy-Fi," created by The Living, is one of the most stunning, genius eco-structures I've ever seen, and it is made almost entirely out of a certain fungi called mycelium or hyphae—after which the project is named.
As an eco-chic, permaculture geek, I. Love. This. Design.
The fully organic, sustainably and locally (everything from a 150-mile radius of MoMA PS1) sourced building materials are designed to be entirely compostable in neighboring Queens community gardens after deconstruction. Not to mention it's beautiful to look at.
The closed-loop design not only serves as a prototype for future projects, but it also helps boost the local economy and bring much deserved attention to NY community gardens.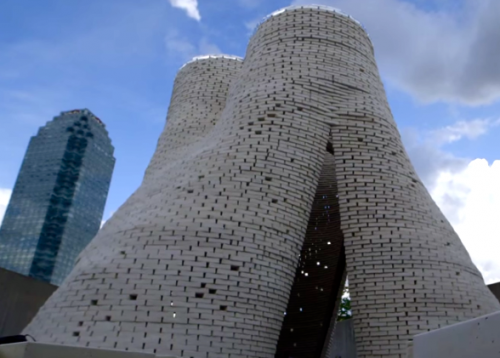 In a quote from The Creators Project's documentary (see above video) lead designer, David Benjamin, discusses the motivation behind Hy-Fi's design:
"We were interested in saying, 'Can we create a new material and a new kind of ecosystem of design and manufacturing, and construction that is sustainable in new ways?' [One that] pushed and tested the limits of what sustainability could be."
Well, they certainly succeeded. The bricks were grown from shredded cornstalks, which turned into solid mycelium in just five days. In Benjamin's words, "We're using a living organism as a factory." Genius.
The Hy-Fi is able to "withstand hurricane winds, and the sun and rain of New York City summers", which begs the question: what is the full potential of this awesome technology? And when will we start seeing it used in mainstream modern architecture?
Bonus TEDtalk:
Love elephant and want to go steady?
Editor: Catherine Monkman