Cheerful birthday Waylon!
Your elephriends and elefamily wanted to create an epic virtual birthday card for you. Below are some kind words, images and videos to wish you a cheerful 40th birthday. We love you!
~
As his mom, I'd like to say—fly high as long as you have a parachute, + jump far as long as you have a safe landing in sight! Looking forward to celebrating with you…for 10 days! xxx ooo Mom!
~
Here's to another year of getting to know you better:
~
A very cheerful birthday all the way from Toronto:
~
"It is not so much what we have in this life that matters it's what we do with it." 

~ Dr. Seuss
~
Happy birthday Way!! May your next 40 spins around the sun be magical and happy.
Mucho love to you,
Tamara Star

Have a good one! ~ Edith Lazenby
Happiest new decade birthday to you, Waylon! I have no doubt, through your years on this earth, and your dealings with the publishing and online world, that there is always a choice to be made with being mindful and considerate and savvy and heart-centered and progressive. You have embodied all these things in your years with Elephant Journal.
I started following the publication when it was in print—a small, edgy and cool little paper product with pages of words and information and wonderfulness. Thank you for giving me the opportunity to be part of it! And, when you wake up on your 40th year of being on this earth, just know that those choices are always abundant and awesome! ~ Gerry Ellen Avery
~
Happy Birthday dear Waylon! Not sure when the exact date is but hope to catch you soon…  ~ Jeanie Manchester
~
~
Lost for words… Grateful for you and all that you do and to be included in y/our world. Thank you for being. xo ~ Anna Jorgensen
~
Dear Waylon,
Most cheerful birthday to you!
I will be forever grateful to you for this opportunity. You are amazing and I am positive the best is yet to come.
Please take some time to relax and appreciate all of the great things you have accomplished. You can be content for a little while. 
I am so happy to be working with you to make enlightened society possible. Thank you for being such a great mentor, friend and inspiration.
Ki Ki So So, Cheerful 40th!
Lots of love,
Travis
~
Feliz cumpleaños and congrats on another trip around the sun!!! 40 years young! Here's to serendipity, neighborness, fierce fashion sense and living a mindful life passionately! Cheers to you and all that you do. 
Sending love, light and joy your way.
Xo, EWR 
~
Haiku:
there are no limits
fly high, jump far and sing loud
happy birthday way

~ Yaisa Nio
~
~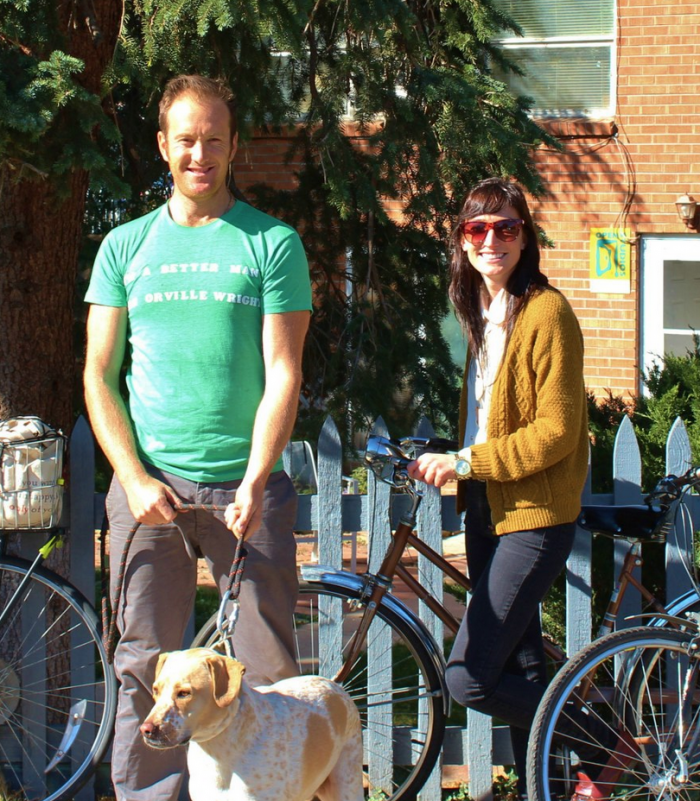 My sweet, sweet Waylon. You're the first thing I think about when I wake up each morning and get ready to start my day in elephantland. You're an ongoing source of power and inspiration. Your humor, endless energy to be of benefit and your ability to know that anything is possible when you're determined is unmatched and the reason you have made such an impact on so many human beings. Every day is a true adventure with you. Love, Lindsey, an elephant lifer
~

~
Waylon,
As simple as it seems it should be to wish someone a happy birthday, I have yet to find words that feel right. Probably because I am not wishing just anyone a happy birthday.
This happy birthday is for the man who created a community of inspiration, hope, love, honesty and a notable lack of Oxford commas available for the world's reading pleasure. It's for the man who has made possible the buddings of a career most word-lovers only dream of, all while welcoming a sc
ared, new little elephant into this family with open arms.
If there is one thing I'm sure of in the short time I've known you, it's that you have a presence that touches everyone you cross paths with, and I couldn't be happier that ours finally have.
So, on this 40th birthday, I wish you oh so much happiness, health, and many more years of short-shorts.
Looking forward to all of the Boulder shenanigans to come,
Emily
~
"Yet Byron never made tea as you do, who fill the pot so that when you put the lid on the tea spills over. There is a brown pool on the table—it is running among your books and papers. Now you mop it up, clumsily, with your pocket-hankerchief. You then stuff your hankerchief back into your pocket—that is not Byron; that is so essentially you that if I think of you in twenty years' time, when we are both famous, gouty and intolerable, it will be by that scene: and if you are dead, I shall weep." ~ Virginia Woolf
If you could bend a little and tilt your ear this way, there are just one or two things I'd like to say to you on your fortieth birthday—
You've been around the world, from here to there; felt the sand between your toes, tasted the sea on your lips; your ears and your heart have listened to footsteps, laughter and tears of the ones that came before you—and you stretched your impossibly large heart farther than ever before.
You are older and quite possibly taller and the sparkle in your eyes speaks of the wonder and magic of making-your-own-adventure.
Although you traveled alone, mostly, you were anything but; delight was in your left pocket and adventure in your right and both carried you as you moved from place to place.
As you shifted, you restored yourself and the world unfolded, welcoming you into her and with awe, you followed a path that you made from your very own heart.
This is how life is, my friend; we are alone and we are not and your voice, bold and on fire, is a beacon for many and I know you do not take this responsibility lightly.
As you grow older, your voice grows stronger and let it be always in tune with the beating, thumping, singing, humming in your chest and may each word of kindness spring from this place.
Most of all, as the lines settle themselves around your eyes and as you find the grace that age brings, may your life swell and welcome the love you so deserve.
With love,
Bryonie Wise
~
~
Happy Birthday Waylon!
Thank you for being fierce and passionate in the way you "be" in the world. It's a true blessing to be intertwined in the magic of someone who is living his life from the depths of his heart. I'm forever grateful for having crossed paths. You are an inspiration and your light illuminates even the darkest roads. Enjoy the celebration of you. I wish I could be there in person but I'll be sending my spirit instead.
Xo,
Brandie Smith
~
Dear Waylon, 
Help! I need help with something!
(Okay, kidding. Please, don't open your laptop.)
The day you responded to one of my typo emails and said you should hire me, I actually squealed out loud. 
Thank you for bringing elephant journal to all of us. Thank you for being an excellent, tough, fair teacher. Here's to 40 more years having fun, being of service, on a bicycle. 
Happy Birthday! I hope you have a fantastic day of celebration. Cheers!
Cat
~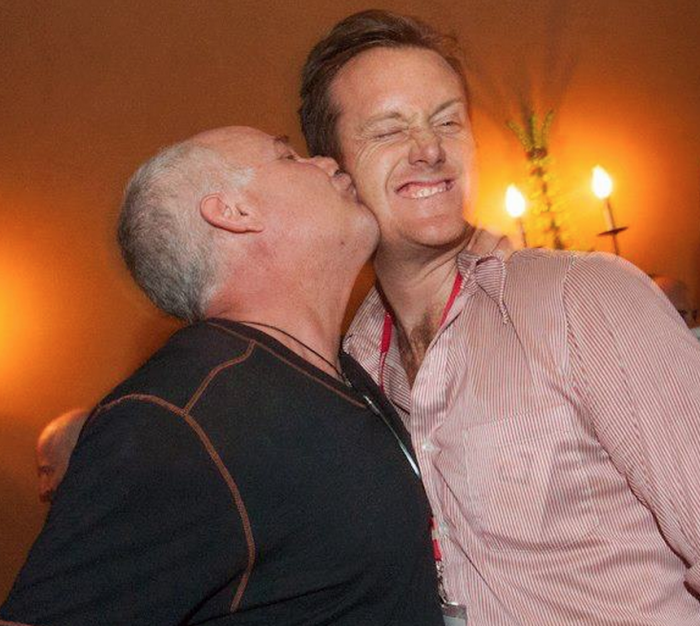 I first met Waylon as he turned 30, 10 years ago. 
We were attending a LOHAS conference in Boulder at The St. Julien. I was new to the LOHAS scene and had no idea who this guy was. It seemed worth finding out, however; he was surrounded by beautiful women and sitting on a throne of Elephant Journal magazines. I mean that literally. His perch by the hotel fireplace—which he never left for three days (I think that was because he didn't have a festival pass)—was made of stacks upon stacks of the latest editions.
I tried to approach this strange, seated figure as he doled out compliments to potential magazine contributors. "Love your prose baby, great poses too."  "Hey sweet thing, care to come over and apply for an internship, and get daddy a drink?" "Who wants to ride my bike home while I ride in the Organic Bouquet Hummer? It's raining out."
Alas I was only able to hang back in the shadows. Then approaching 50 and with a long-ago receded hairline, it may have been that my inner light failed to shine as bright as that of the fit young ladies in Lululemon yoga pants who seemed to be representing the Elephant Journal demographic. Somehow I must have got my business card through, though, because Waylon and I started a long friendship.
Flash forward about five years. LOHAS was gearing up for another Boulder Love-In and Social(k) was continuing our run of hosting what turned out to be an epic series of parties. The tradition was to gather one night after the LOHAS programming was over for the day. Some stand-outs: the Helicopter pad of Marriott Marina del Ray, DJ Alex Theory spinning on the St. Julien patio outside the suites, and a momentous party at the Happy Noodle House.
At this time Waylon had decided print media was old school and to embrace digital full on. The magazine went electric, but the sales went in the shitter. At Late Night LOHAS, we were also looking at changes. The sponsors were looking to add more value than extended networking, music, drink, food and deep late night connections. The idea of sponsoring a needing local cause seemed like a good way to up our game.
After asking around the community, it became obvious that there was one cause we couldn't ignore. Like a drunk uncle leering at bridesmaids, Waylon was the guy everyone pointed to. The old king's throne had dissolved after the print runs stopped.
So: a couple hundred people, passionate speeches, open bar, and Waylon. We propped him up for one last rodeo and he rose to the occasion. "If Arianna Huffington can do it, so can I," he told us. We started with a $1.00 a day to get your name on his site; views were approaching the hundreds a month. Social(k) was top of the list; half a dozen others signed up and doubled the sponsor dollars from his site that night. He would have gone home to a happy bed but the house had been repossessed by recession bankers…and worse, Lindsey still had her boyfriend.
The Phoenix rose from the ashes at the party. Soon readership took off, as did complaints about Facebook being Elephant Book. The man became the number one poster of content for Facebook. To this day they only utter his name in hushed tones in the FB campus.
The interns returned, more sponsors signed up, monthly readership broke through the 100,000 level and Waylon was back in a house (well he actually never had to truly leave, though it was close). I'd like to think a few of us helped him through that rough time with our sponsorship dimes. He's too modest to offer gratitude—the Buddhist way he says, but that's okay. A group of us rallied behind the guy and had the privilege to see a redemption worthy of a Hallmark TV movie. And now that he's back on top I get to act like the drunk uncle when he comes around with his new flock of beautiful interns. It's all good for Waylon…though Lindsey still has her boyfriend.
Happy Birthday Big Boy!
Rob Thomas
Social(k)
~

Dear Waylon,
You're a wonderful friend. You adopting me as an elephant has changed my life for the better forever. Having a strong, principled man believe in me and my abilities is helping me heal my relationship with money and employment. Thank you for sticking your neck out for me. I love you.
Xo, Ashleigh
~
Waylon, today I'm wishing you a few cheerful things:
A good ale clinked against a good friend's glass.
The best vegan cake topped with a candle that makes your wish come true.
A happy heart.
Health that carries you through 40+ more cheerful birthdays.
And a treehouse with a bicycle elevator (that might be a long shot, but I'm still hoping for it ).
Happy birthday!!! xx Jennifer White
~
~
Dearest Waylon,
Thank you so much for sticking with your passion so long that we were all able to catch up. This community that you've built is nurturing and strong and getting weirder and wilder every day—I hope you're proud, because it's an amazing family and I'm grateful every day that I get to hang out with you.
I imagine the man who birthed elephant is wild and weird a little himself, a bit of a poetic loner, who wanders the woods after most people are in bed, with a dog and a bike for company. Maybe he has whisky in a flask and chocolate in his pockets and a book of Neruda somewhere close by, because poetry and passion are never far from him.
I wish I could be in Boulder so I could give you a hug in person, but I won't be able to make it, so please accept my hugs and virtual trunk-waving instead. We love you.
Thank you.
~ Bronwyn Petry
 ~
Dear Mr. Lewis,
Thank you for being you! And thank you for creating something that has touched the hearts and lives of so many different people in a positive way.
I truly hope you enjoy your birthday festivities, and to help you go big and PARTY HARD, here are some tips from the Party King himself, Mr. Andrew W.K.
(Thought you would especially appreciate how his first suggestion is to "clear your head of those thoughts taking up to much brain-power." ie, Meditation!)
Feliz Cumpleanos!
Yoli Ramazzina :}
~
~
"You have to go on and be crazy. Craziness is like heaven." ~ Jimi Hendrix
Waylon, your work has inspired the crazy in many of us and I appreciate you and the birth of you!
Happy F*cking Birthday! 
~ Jessica Sandhu
 ~
 ~
Dear Waylon,
I'm so honoured that I've been invited to Boulder to celebrate your special day (week) with you!
I have a feeling it will be legendary. Thank you for all of the hard work, dedication, passion and heart that you bring to the elephant community (and beyond) every single day.
I love what you (we) do and can't wait to see what the future holds.
<3 Renee 
 ~
~
Dear Waylon,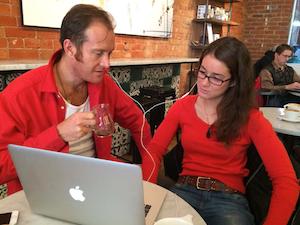 Cheerful 40th birthday! You don't look a day over 30. It's hard to put all of the kind things I want to say to you into words (good thing I'm an editor for elephant journal). But seriously, I am so grateful to have you as my boss and friend. Working with you and learning from you every day has changed my life (no hyperbole).
You've taught me how to take blame, meditate and be personal online (even though my instincts are borg-like). You've taught me how to fail with grace, be of benefit and learn from my mistakes. You've taught me how to be more green, care for our planet and to bike—even when I don't feel like it. You've taught me how to create a blog that gets 100,000 views, but you've also taught me how to write from my heart, with a genuine voice, so that I can be of benefit to our elephant journal community. The list goes on, but overall, you've taught me to be present and to appreciate the beauty of life.
Here's to another 40 years of changing the world, traveling, playing with Red (cheerful seventh birthday to him by the way), eating vegan ice cream for lunch, bicycling around town, interviewing thought leaders, writing beautiful words, leading our community, having red-headed babies (fingers crossed), climbing, yogaing and causing trouble whenever you can. Can't wait to celebrate your birthday and have the Ultimate Boulder Day!
So much love,
Rachel
~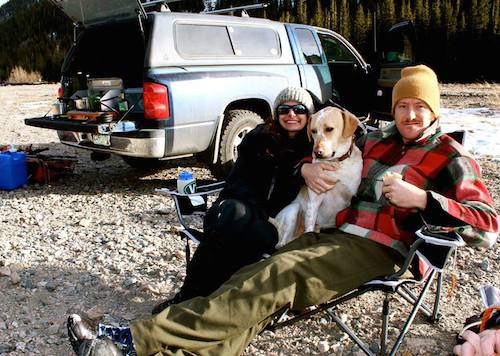 Waylon, so pleased to have someone more eco, more idealistic, and even more in love with biking than I am in my life. Keep challenging the status quo and pushing boundaries for yourself and those around you. Looking forward to another 40 years of friendship with you. With love always, Jeanne
~
~
Wish Waylon a cheerful birthday by leaving him a note in the comments section below! 
~
Love elephant and want to go steady?