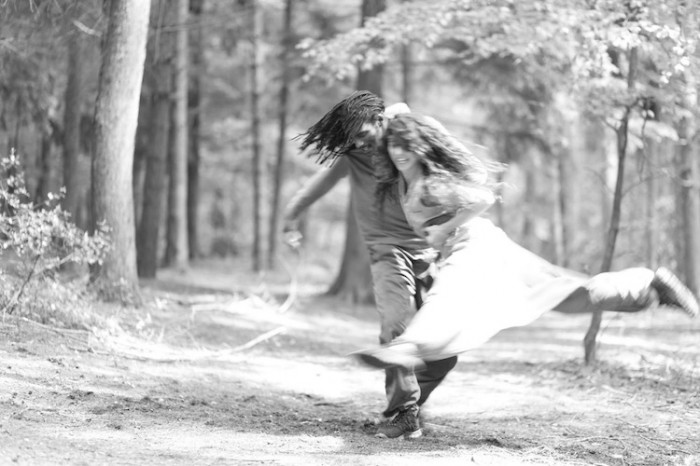 If you meet on a chance encounter and see the magic fizz between the two of you, if you have known her for years and suddenly feel "that way" about her, or if you have her already and don't know how to keep her, if you love her—then love her as an action.

Love her with everything you've got:
Respect her as a wonder, not to be held on to or possessed, but to be rejoiced in every moment. 
Be the man who she deserves and make love magic rather than expecting it to "just be."
Do not be selfish in your desire. Work like hell, but do it together. 
Grasp life by the wings and sail with her, not on her.
Do not crave her heart. Instead, honor it and treasure the parts she shows you, knowing that it was created to be free. 
Do not be jealous of her smile, her laugh, her body or her love. They are only yours if she gives them to you. You will never own them. 
Realize the absurdity of wanting security when life itself is insecure and finite. Accept that the only integral promise she can make is to tell you the truth. No "forevers," no "till death do us part," only truth. And that's enough. 
See it her way. Even if she can't see it yours. 
Smile at the pleasure she brings to others and do not resent it and wish it all for you. 
Respect her past as she does and know that it is only her past that brought her here and that without it you would never have found her. She has chosen you. 
Do not use intimacy as a reassurance of love, but be secure in yourself and know that she does not control your happiness and is not here to fix any unease with your life. 
Do not crave her gentle moans and whispers and never, ever expect them. Bask in the beauty of those moments and show her all of you in return. 
Let her fly and do not stunt her desires because you are scared of losing her to them. Support her dreams; entwine yourself in them if she wants you there. But let her go too. Give her freedom and choice because in following her heart she is most happy. 
Love her fully. With intent. With passion. Selflessly. And with all of you. 
~
Relephant:
~
~
~
~
~
~
Love elephant and want to go steady?
~
~
~
Editor: Travis May
Photos: Author's Own