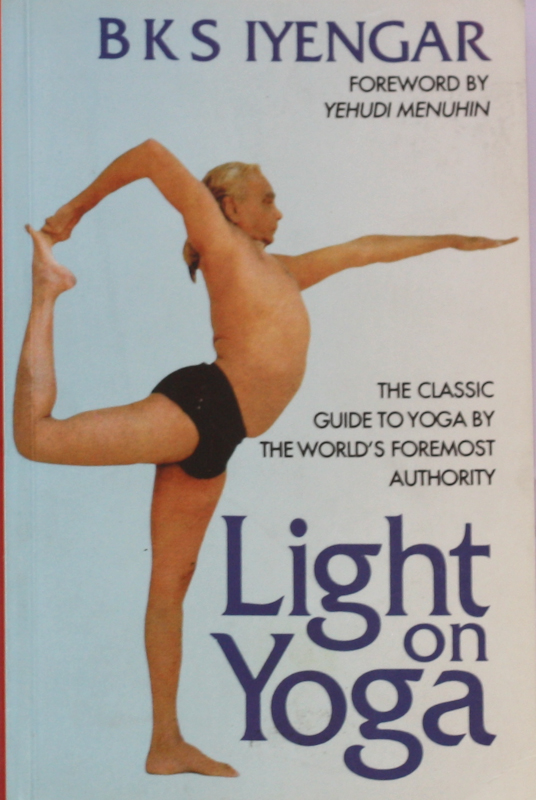 B.K.S. Iyengar passed away today, and I wait with baited breath to read the hundreds, thousands, probably tens of thousands of tributes that will be written in his honor.
While many of the 26 millions people practicing yoga today in the United States have never even heard his name, every one of those 26 million is practicing because of him.
Whether they know it or not, whatever tradition they follow, whether they know of lineage at all, the reason they are standing in a room doing yoga is in some way directly related to Iyengar and his legacy.
His seminal work, Light on Yoga, written in 1966, was many Westerner's first introduction to yoga and yoga asana. Many of the most well-known yoga teachers today got their start by practicing at home with the sequences in the back. And as recently as last year, I met someone in a remote town in Brazil, who had never been to a yoga class, but had a formidable practice using Light on Yoga as her teacher.
To this day, Light on Yoga is a quintessential yoga text.
Not only is the introduction densely packed with incredibly profound spiritual wisdom on yoga and Sankhya but the pictures of the poses are material for a lifetime of study.
Many people will write about Iyengar's incredible life, coming from a miniscule town, a sickly child and sent to the Mysore palace to study with his brother-in-law, Krishnamacharya.
In the 1930s, yoga was not widely respected in India. It was seen as something performed by mendicants. However the Maharaja of Mysore was involved in a kind of Indian cultural revival, and therefore had brought Krishnamacharya on as an advisor to the royal family.
Iyengar went there to study and tells tales of how strict a guru Krishnamacharya was. One time he was locked in his room with no food or water until he could put his feet on his head in scorpion pose. As tough as the tales are of the guru/siksha relationship, he honored Krishnamacharya through all of his life.
Pattabhi Jois was another student at the Mysore Palace; his teachings became canonized as the Ashtanga Vinyasa Yoga system. Even though at odds philosophically and coming from different castes, Iyengar and Pattabhi Jois delighted in reuniting later in life, students of the same teacher, which was documented on the cover of Namarupa magazine.
As a dedicated yoga teacher, it is impossible not to feel the gravity of Iyengar's passing.
What will remain of yoga as we get farther and farther away from these classical teachers whose faith in the classical texts were undeniable underpinnings of the outward form they taught? And what of the masters unafraid to step into the role of guru, because they had the gravitas, the sight, the awareness and the embodied experience?
The three main lineage holders in the Krishnamacharya tradition were Pattabhi Jois, who left his body in 2009, Iyengar, and Krishnamacharya's son, Desikachar, who is in poor health and is no longer teaching. Indra Devi was his first female student and she passed away in 2002.
Fortunately, there is a next generation of teachers that is phenomenal.
Many teachers in their early 60s, who have a lot of years left (if yogic longevity favors them), that have learned at the font of all three of these lineage holders. Richard Freeman, Erich Schiffman, Tim Miller, Patricia Walden, Aadil Palkhivala, Michel Besnard and Nancy Steckert to name a few.
But with Yoga Journal taking a Cosmo turn, yoga franchises on the upswing, and now a generation of yogic lineage holders passing away, we do well to ask: what will happen with yoga now?
My most memorable encounter of seeing Iyengar live was at a large yoga conference. In a room of over 800 people, it was if he was talking directly to me. His directions were so specific, and so hair splitting, that it cracked my mind open.
I (capital I) could not understand, but my body did. He spoke directly to my body.
In that same class, he asked one of his senior teachers to demonstrate. She made a mistake with her blankets, and he smacked her on the back. At that moment, several people rolled up their mats, grabbed their blanket stack and headed out. They found that violent and were shocked.
What I saw was a teacher correcting a student who he had taught for over 30 years. The student (who was actually a senior teacher) was unfazed. One of the gifts of these conferences is seeing your teacher humbled by their teacher—and feeling the continuity of teachings, the strength of the legacy.
The following day, Iyengar entered the room as we chanted sutras. In his booming voice, he responded to the non-verbal reclamations  from the previous day. In a tone of absolute humility, he explained that he had "seen moksha" (liberation). He chose to return to the householder life to teach.
I felt the boddhisatva essence. He could see the future injury that someone was creating with their small bad habits, and he wanted to do everything he could to help them avoid suffering. For me, that is the ultimate generosity.
So in this day and age, where 22 year old teachers become dharma experts and personal growth advocates, Iyengar's refreshing honesty and impeccability are more than ever a precious gift.
No one can be him.
The teachers who have adopted his personality miss the point, and convey something that he himself did not. He was a man with a giant heart, a shepherd for aspirants around the world, indominable in his belief and devotion to yoga.
One of the highlights of my life was to see my teacher, Richard Freeman, a grey haired, big eye-browed spiritual giant himself, with Iyengar. Richard is an Ashtanga yoga teacher whose guru was Pattabhi Jois from the late 80s onward. However Richard had studied with Iyengar previously.
I watched Richard crawl on his knees half way across the room to Iyengar, call him Guru-ji, and whisper in his ear. And I saw Richard's face light up with a huge smile as guru spoke to him and tossled his hair. It was a moment of pure devotion and humility, and to this day brings tears to my eyes when I remember it.
As Iyengar stood up to leave the dining hall, all of the teachers for the Conference formed two lines. He walked through as everyone pranam-ed or bowed. Everyone got down on the floor and touched his feet. I mean everyone, including Baron Baptiste, Shiva Rea, Richard—all the hot shot teachers in the room. He laughed and looked at each person, touching our heads, and giving us a huge life force hit.
When he passed me, he looked straight into my eyes, and said "always be happy in your heart."
I was so stunned that he actually spoke directly to me that I thought he had said it to someone else! I looked to my side, and realized he intended it for me. Like the words of great ones, they remain forever etched.
I bow to the guru of gurus.
It is, literally, the end of an era.
Love elephant and want to go steady?
Editor: Catherine Monkman
Photo: Wikimedia Commons