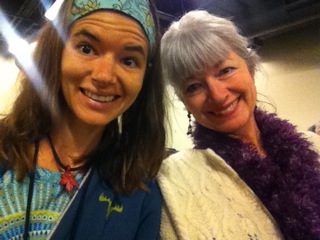 My face is pressed up against the glass, and I'm fogging the windows in the door much like a five year old watching it snow for the first time.
But I'm not watching it snow, unless you count grey hair as snow.
I'm watching for the beautiful women, the glowing ladies, the "older" hippie women who shop at the wonder co-op where I work.
When I first got the job, I had no idea it would be full of beautiful old hippie ladies, or that the little co-op would be a gold mine for inspiration.
I've had a fascination with old hippie ladies my entire life. In my mind, I have this dream of who I want to be when I'm 65. I want to be the lady in the health food store in worn out Birkenstocks, long, beautiful grey hair and a tattered "go vegan" shirt. I want to be the lady buying granola in bulk, the one everyone looks at says, "She's been a hippie her whole life."
As I slowly work towards that goal, I've found so many women who have inspired me over the years.
One of the first beautiful, grey haired hippies I knew was a leader in my 4-H club in high school. She had been a vegan her entire life, was characteristically thin and active and energetic, and loved talking about saving the oceans. She fearlessly led a 4-H club of environmentally conscious kids to pick up trash off the beach, learn marine wildlife and volunteer at the local aquarium.
I wore long broom stick skirts and listened to NPR when I was 14, reading books about animal rights and buying all my food at Whole Foods in an attempt to follow my role model.
I remember the day I found my first grey hair.
I was 21 and at a music concert with some of my best friends. One of them pulled a hair out of my head and held it up for me to see, "You have grey hair!" My mother started graying in her mid twenties, so it was no surprise for me. Actually, I was excited. My mother's full head of grey hair, even at the young age of 30 had always been beautiful to me. I felt lucky to have inherited such a beautiful genetic predisposition.
Now, with my head stuck in the window separating the prep kitchen from the deli portion of the co-op, I spy her.
She's tall and graceful, with long silver hair and a simple maroon sweater over her black pants. She has a cart full of vegetables and beans, and is looking at the salad bar. I make a mental note of what she's buying; I want to be like this woman!
These women are always so beautiful to me because they've aged gracefully. They're not wearing clothing that is generations too young for them, they're not drawing attention to themselves or wearing make up intended to make them appear young but actually makes them look terrifying. Their hair is natural, they're proud of the lifetime they've spent honoring their bodies.
I wish I could say that I'm above being insecure about my body, that I focus on compassion as the path to true happiness like the Dalai Lama says to do, that I meditate and do yoga and find true contentment in the strength of my body, in the way my muscles flex and support my life. But the truth is I'm just as prone to being influenced by the images of "perfect" women being thrown at me constantly, at the lists of why certain women are more admirable than others or what an ideal woman should do for a living.
I look over my life and find the flaws, the holes, the reasons my arms aren't muscular enough and are too spindly or why I don't measure up because I'm content to cook organic food at a co-op part time and don't have a high achieving nine to five job.
But when I see these beautiful older hippies in my store, poking through the ripe blood oranges or carefully selecting bran muffins from a case, I remember what its all about. These ladies aren't concerned with how grey their hair is, at the wrinkle lines around their eyes, at the unflattering way their ancient brown canvas pants makes their butts looks flat.
They're proud of the stories their wrinkled, rough hands tell—stories of lush vegetable gardens that fed them for years. They aren't concerned with proving to anyone that their lives have value, or that they could pass for being three years younger. Their identities are in their values, in the way they have cared for themselves, the earth and others.
When I find myself angry at how I am thinking about things (judging others, worried about hair do or lack thereof), I picture a beautiful hippie lady, and think to myself, "Would she be upset over this? Or would she have grace with herself?"
The hippie ladies I watch through the windows have confidence in themselves. They're doing the best they can and that's enough.
Sesame Rice Recipe
3/4 C cooked brown rice
1/4 C shredded carrots
1/8 C rasins
1/8 C sunflower seeds
1/2 stalk celery
1/8 C diced red pepper
1 green onion
Dressing:
1/2 Tbsp sea sesame oil
1/2 Tbsp soy sauce
1/2 tsp cayenne pepper
Cook brown rice. Meanwhile dice green onions and celery and shred carrots. Combine ingredients and mix oil, shoyu, and cayenne and reserve. When rice is cool, mixed together with dressing.
Love elephant and want to go steady?
Editor: Emily Bartran
Photo: Author's Own