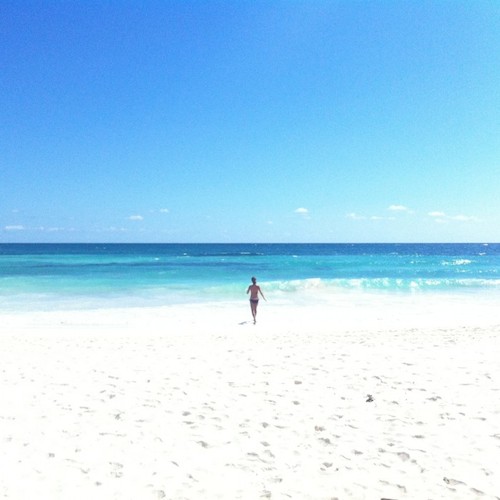 A beautiful life, blessed with abundant good fortune. Most days I feel nothing but gratitude.
Hopelessly devoted at 19. Bought a house. A dog rescued us. Same amazing job for six years.
Blink.
I'm 30 years old.
All that's left to do…Is punch out a baby or two.
Why does that seem like the most depressing, suffocating, exhausting thing in the world some days?
Beware: Autopilot!
Autopilot is a slow death.
I fantasize about the freedom to pick up and leave it all behind.
Go live in beauty and decadence. Tuscany. Tulum. Thailand. No responsibilities, no obligations, no problems.
I imagine mid-morning sunlight, a fresh breeze sweeping in through open windows as my gentle wake-up call.
Walk into town, meet new, fascinating friends, tend to my vegetable garden, meditate at sunset, write by candlelight, drink delicious red wine, skinny dip under a super moon, laugh until it hurts, yoga on the beach at sunrise, content that there's nowhere to be but in the present moment.
People have painted their lives to look this way. True or false, I am jealous. "I envy your life."
They say to me, "It's not all it's cracked up to be. I wish I had your life."
Really?
Really!?!
The grass is always greener…
A clean slate is escape; the illusion of starting over. It's easy to get caught up in the excitement of new places, new people, new habits.
Stay in one place long enough and all of the old places, old people, old habits will come creeping in again.
"The true voyage of discovery consists not in seeking new landscapes but in seeing with new eyes." ~ Marcus Proust
Mindful practices bring a shift in perspective. Even though nothing in my life has changed, I can see differently.
Instead of daydreaming about an unknown future, do I have the courage to stand in one place and transform the things that are within my power to change?
I can be brave, look at my life and let go of the things that no longer serve me so I can step into lasting authenticity.
Living my life the way that I want to right now requires a lifelong commitment.
It's about the voyage. We don't get to our destination until our soul's end. And if the storybooks are right, there is only the infinite.
I need to hold myself accountable to truly waking up Every. Day.
~
~
~
Love elephant and want to go steady?
~
~
~
Editor: Travis May
Photo: Author's own