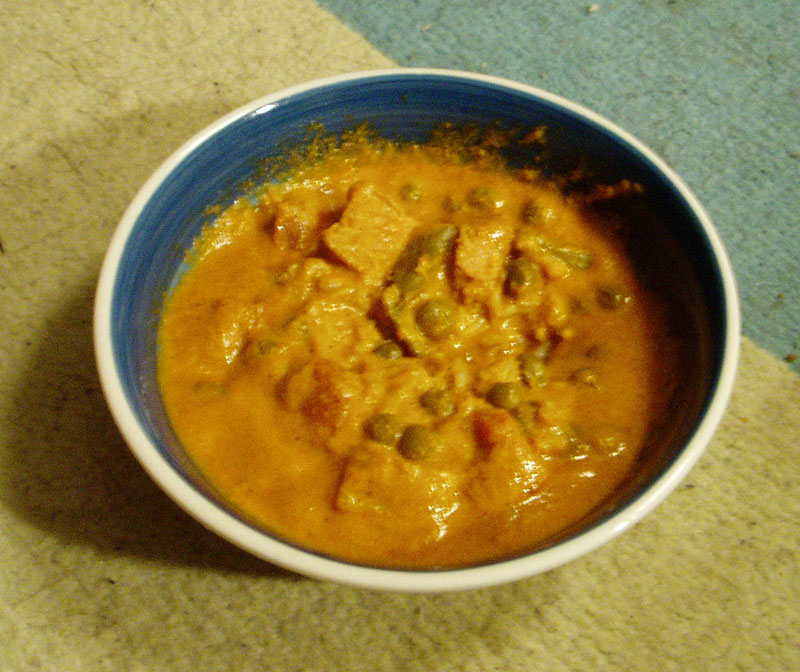 This is an awesome "everything at once" vegetarian meal.
It's got fruit, nuts, cheese and plenty of veggies. It's got sweet, savory, salty and spicy all in one pot. It's kind of a "kitchen sink" recipe, so feel free to change things around. You can use cashews, pistachios or even almonds for the nuts. Raisins, apricots or dates for the dried fruit. Just whatever you have on hand or whatever you like best.
Get creative! You never know what kind of surprising and wonderful flavor combos you might find!
To serve four people, here's what you'll need:
1/3 cup roasted cashews (or pistachios or almonds)
1/4 cup raisins (or sultanas, apricots or dates)
1 bell pepper, diced (choose red, green or yellow)
1/2 cup green beans
1 cup diced potato cubes
1/2 cup green peas
4 oz paneer cheese (or some other semi-soft white cheese)
1 onion, chopped finely
3 cloves garlic, minced
1 thumb sized piece of ginger, pealed and minced
1 tsp garam masala
1 tsp cayenne pepper
1 tsp turmeric powder
2 tsp ground coriander
1/2 cup milk (you can use nut milk or dairy)
1 8 oz can tomato sauce
1 cup water
salt to taste
3-4 tbsp oil
Now you've got all your ingredients, here's what you need to do:
Heat the oil in a skillet, and add the onion, garlic and ginger. Stir-fry them until fragrant. Then stir in the tomato sauce and all the ground spices and let it bubble for 1-2 minutes.
Now add the water and all the veggies and let them simmer until tender. This will take about 20 minutes. The sauce will have reduced a bit by then, so add in the milk and give it a good stir. Add in the nuts and the dried fruit. Then add the cubes of paneer or other cheese.
Turn the heat down and let it all sit and the flavors get to know each other for about 5 minutes. Then give it a taste and add a dash of salt if you think it needs it. Serve immediately over basmati rice.
And there you have it! Another awesome vegetarian meal!
Love elephant and want to go steady?
~
Editor: Catherine Monkman
Photo: Wikimedia