It rains for the first time this summer in Athens during my stay—a welcome plummet to the brooding temperatures.
The days are humid and seemingly eternal. The sea swells in ridiculous blues and greens.
Whole towns converge to swim. Cicadas hum vacuously in the sultry air.
A few tree-sitting bugs caught by clever hands stun unsuspecting shoulders (if you want to hear a proper shriek, try this trick)
By nightfall the city plazas swarm with commotion and with rare breezes that young children snatch to play with. The city displays an immodest raucous, impervious to order, content in it's fitful mess. Boundaries blur as restaurants seep into courtyards, cigarette smoke curls into sticky air, stray dogs and cats whine next to carts of flashy merchandise pitched to tourists.
Old men line apartment walls in rows of chairs twirling kompoloi beads, their movements marked by habit, not piety. Garbed priests smoke in alleys. Families covet conversation over food long past any standard American dinner time. Circling accordion players, if lucky, manage coin tips with their few chipper chords—and even livelier grins.
It is one thing to visit a country as a native returning for a jaunt, and quite another to see it for the first time, as a part of a Greek-American family that is sometimes invisibly sliding by, other times on display like a reluctant clown. Traveling with your friend's family certainly enables you to toss aside travel guides for the masses, but it also means that you must find your role in a small ensemble play on parade through cozy dinners and endless museums.
The self of your day-to-day routine back home disintegrates as you are confronted with greatness (see: ancient history). But it is inevitable that occasionally your vacation ease takes an uncomfortable pitstop at the door of awkwardness. With later reflection, these foibles can form into ropey scars of mat urity. Realtime, you gulp wine, swallow and repeat.
My time is divided between the heart of Athens and a little known village on the shore called Raches.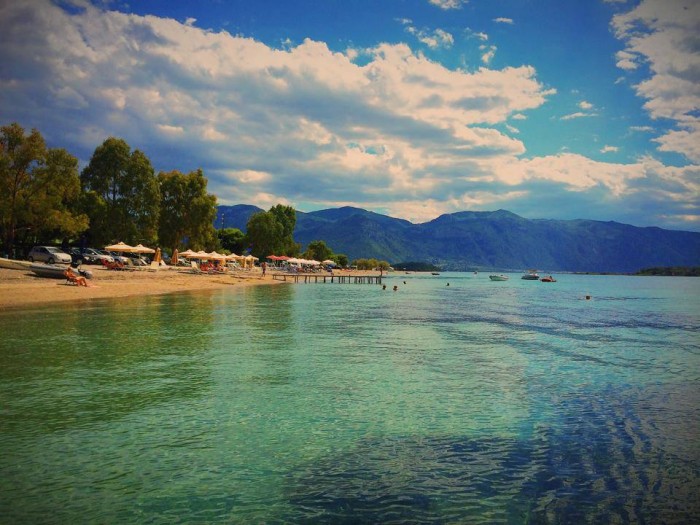 The house where we stay first in Athens wears its metal entry gates like an old uniform, snug and friendly, with all the traces of a prideful owner.
The yard, mostly barren, save the small lives of ants capitalizing on rogue scraps of food. An almost blind dog barks at the wind, the most improbable watchdog.
Upon entering, a smell not unlike burning moss, confronts the nose, normalizing itself with each reentry. A closet sized elevator, common in homes, travels the three floors. It's furnished with Greek Orthodox iconography. A spiral staircase precarious to traverse—even in the soberest of states—is one of many antiquated charms. The inhabitants are hospitable, as are all Greeks I will meet.
When a Greek person offers their summer home to you for a month, they mean it.It was not at all surprising then when we arrive in the village my boyfriend visits each summer to see extended family in huddles awaiting us. Double cheek kisses abound.
In a population of under 2,300, the youth often leave the area to work or study and return for summers.
Nights are marked by late dinners with an impossible amount of food. You can never eat enough for the liking of the cooks. On occasion, I will admit to plopping a few bites in my napkin. The women, I note night after night, responsibly prepare then dissemble the table as the men sit contented. I am told by the younger generation that while this holds as tradition on occasion, most couples have adopted sharing household duties.
Some obvious social niceties differ; personal health is fair game for conversation. I am asked how my bowels are over appetizers. Waiters interrupt when they think you've ordered enough. Sarcasm gets mistaken for ignorance: I ask why the Greeks didn't bother to finish building any of the ancient temples I've seen in their toppled forms. I'm called a dumb American.
My friend, half Greek, half American, becomes the mediator in these moments between my cultural blind spots and the underlying intentions of the native customs or language. Over Greek salad and plates of tzatziki, we clumsily try to craft a bridge of understanding. I'm repeatedly prompted by those I meet to share my ethnic background as a source of my identity.
In fifth grade for nationality week, I whipped up fluffy chocolate cookies and called them 'Danish' cookies.
Everyone thought they tasted good and that's all I really cared about. Now, tossing over everyone who decided it would be a good idea to reproduce up until me, I feel a bit sheepish. "A mix" sounds lazy and like I'm a neighborhood dog. I side with saying Danish, but stop when this prompts one gentleman to speak to me in the language. I return blinking eyes and open it up to—well, Scandinavian—because it sounds better than I don't know.
I am relieved when the initial introduction period stops, and the exploration of daily village life begins. Two days and I am acquainted with tales of local legends. A man dubbed the Baboon, I'm told, goes to the docks each morning after closing his sweets shop to enjoy two bottles of red wine.The undisputed claim is that he can urinate for five minutes straight. He is a town fixture whether he wants to be or not.
A smattering of pin drop islands just out of swimming range glitter on the horizon. A mass of lava rocks from a nearby mildly active volcano make up the form of a lying body. It is said Hercules murdered a treasonous Titan forever displaying his body as a warning. A quick trek on a boat to one of these small hints at paradise makes the plot of Cast Away seem down right romantic.
More romantic, than say, the constant club music emanating from beach restaurants lining the shore. I can't help, but question how many locals understand the crude English lyrics set to four beats. My favorite: sexy mother (you know the rest) on cycle for six grueling minutes over jarring pop sounds. Warm breezes and exuberant DJs set the nightlife tone: a not unpleasant crowded feeling of bodies packed around hightop tables, inescapable cigarette smoke, jovial banter and an ocean a mere fifteen feet away for timeouts.
Over drinks, the youth speak casually of hard economic times, of low wages, of not being paid on time by bosses, of long hours and not enough money for food when venturing out into the cities. The elders ask jokingly if I'll build a house here, the glint in their eyes tell me they are still quite in love with their place on the map.
Try as I might, the inordinate amount of vowel sounds in the Greek language make it difficult for my tongue to mimic back phrases I am taught. I try harder for the curse words in honor of the junior high lunch table we all once sat at.
If I was organized enough to have a bucket list, I would have the satisfaction of ticking off: climbing atop rumbled war towers, treading the Mediterranean near floating castles, and overcoming my fear of nibbling fish. Nibble away foes!
It is one thing to travel to a country expecting paradise, but it is another to surrender to the offbeat charm of too personal questions, of haughty waiters, of not knowing how to introduce yourself. I know it is a depraved confession, but at times, I revel in the cultural miscommunication, on the crudely built bridge between cultures—the whole thing vulnerable to the woes of judging and being judged. It is through this weathering that we perform our discordant family stories.
To the tune of buskers, in the stuff of legend.
Love elephant and want to go steady?
Editor: Renée Picard:
Photos: courtesy of the author