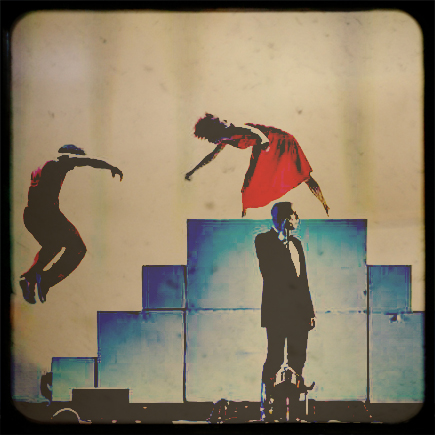 Recently, my husband, Michael's, high school girlfriend wrote to him, out of the blue, on Facebook.
She was coming to Denver with her husband, who was performing in a musical. Did we want a couple of free tickets? How about dinner?
Can we say "random?"  I said yes.
I had always been curious about the women my husband had loved.
Would they be like me?
Would I hate them?
Would we feel like sisters?
I'd stalked them all at some point, in that creepy, yet now socially acceptable way. Now was my chance to find out more.
But it turns out I was standing alone. Because everyone thought it was totally weird and dangerous that we were going out with a possibly attractive, possibly unhappily married old flame of my husband's.
Maybe it was the idea of connecting with an old part of ourselves—wanting that for my husband. Maybe I wanted to make up for past, jealous, overreactions—to resolve an old, familiar tightness in my chest.
Maybe I wanted a good story.
I just knew I wanted to go.
The musical was corny and sometimes funny, but mostly just dear. We met them at the merchandizing table afterwards.
She was full of light.
I felt like hugging her, so I did.
She was surprised.
I had looked up the address of a local, trendy speakeasy. But when they suggested Rock Bottom, I found myself slightly relieved at the idea of this pressure-free chain restaurant that I had probably just ripped on last week.
We drank jalapeno-infused beer, exchanged earnest glances and felt vaguely connected by the fact that all four of us were okay with this. And there was no judgment.
They didn't mind that I tended to fill up empty space with small talk.
We didn't care about their big-as-a-plate-of-nachos age difference.
Lorna was a science teacher. They lived together in a ranch-style house in the Nashville suburbs and were on a no-carb diet.
And when we ended up at their on-location condo with a one-hitter and Michael said, with just a touch of incredulity, "Wow, Lorna, back then I was completely in love with you," she was embarrassed.
But strangely, I was not. I think it made me love him more.
Right before we left, she retrieved from her closet the same slightly hipster shirt I was wearing but in the opposite color.
I think we were all pleasantly unsurprised.
And I sort of loved her.
And I was glad Michael had loved her.
On the way home, I said: "funny, nobody understands what we did tonight."
He replied: "But we can't be each other's everything."
And I thought about how this contradicts most of the movie quotes I've ever memorized.
Then he said: "Why would we want to deny each other any form of love? We live together in the present. These people take up this little room of our past."
Then my heart said: "He's right you know."
~
Love elephant and want to go steady?
~
~
Author: Andrea Enright
Editor: Ashleigh Hitchcock
Photo: flickr