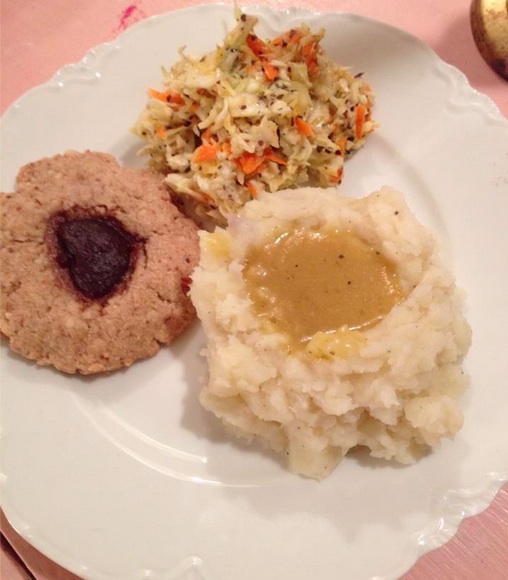 A favorite side dish for Thanksgiving dinner is mashed potatoes and gravy.
Potatoes are nutritious and delicious. They are fat and cholesterol free and are high in potassium, fiber and B6. Did you know that potatoes are the world's fourth largest food crop? Wow!
Mashed potatoes and gravy is an easy recipe. Preparing it takes about 30 minutes from start to finish.
At our house we prefer our mashed potatoes without the skins. However, most of the vitamin C and fiber is found in the skins—it's more nutritious to leave them on. Just lumpier.
Mashed Potatoes
bring to a boil 6 c. water
peel and quarter 6 large red potatoes
add to the boiling water and cook 20 minutes
strain and save the potato water
put the cooked potatoes back into the pot and cover
as soon as the gravy is ready mash potatoes with 1 T. coconut oil and 2 – 4 T. potato water.
Vegan Gravy
dice 3 cloves of garlic
saute garlic in 2 T. coconut oil
add 4 – 5 heaping T. of flour
stir until it's the consistency of paste
add 2 c. of the potato water
stir with the back of the spoon until the flour/ oil paste is dissolved
add 2 T. tamari
season with 1 t. marjoram, 2 T. nutritional yeast and ½ t. turmeric
add salt and pepper to taste
stir constantly until the gravy starts to bubble and thickens to desired consistency

~
Love elephant and want to go steady?
~
~
Author: Ashleigh Hitchcock