I start off every holiday season feeling smug with preparedness.
I've started a list of gift ideas, I have all the stores I'd like to scour planned out—and then, it's the second week in December and I've not made one purchase and realized that there were only actually two people out of seven-ish on that list.
So, all of us over here at elephant have put our trunks together and come up with a last-minute (or plenty-of-time minute, if you're one of those) list of awesome, eco, affordable gift ideas.
For you (and, also me):
Cat's ideas:
> Many of our readers, like myself, stumble upon elephant journal because they're a lover of these beautiful giants. A little kindness and support given to our fellow earthlings in need is one of the most thoughtful gifts a person can give.
Donate in the name of a loved one to an organization like the Sheldrick Wildlife Trust or Elephant Trust.
> Eco kitchen basket. In an effort to eliminate plastic from my kitchen, I purchased reusable sandwich and snack bags and a couple of lid/plastic wrap alternatives. I can't say enough good things about these and every kitchen needs them. Why not create an eco & local basket of kitchen goodies? My basket includes these from Snackpack Reusables: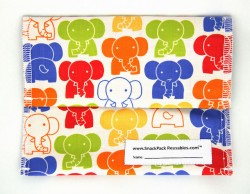 Tried and loved. They wash well, locally family-made (for Canadians, anyway) and an amazing eco option. Plus, my family says they keep food fresher than baggies do. Thankfully, my son hasn't lost them somewhere in his school yet, but if he does, it's not the end of the world because they're really not expensive. More useful info about these reusables here.
And these:
These are awesome. They suction to pretty much anything and everything stays fresh. You can use them in the microwave, put them in the dishwasher, and put them on hot pans on the stove while cooking. No more saran wrap, ever. There are a ton of designs and shapes not shown on this video.
Lastly, for the gift basket, I'll be hitting up my local farmer's market to include some other goodies like local honey, jams, chocolate and maybe a handmade apron. I'll likely use an elephant journal tote as the "basket/wrap" for this gift, but any reusable bag works well for gift giving!
Rachel's idea:
> For the bag lover (or bag needer) in your life.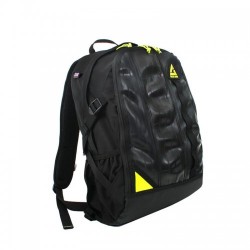 Or any of the bags from Green Guru Gear.
I love it because it is made from recycled bike tires and makes for a great conversation. I feel proud to wear the bag knowing it isn't a new, wasteful item.
Ashleigh's ideas:
My last minute gift ideas are services or things that are disposable.
> My favorite thing to buy my friends is a professional massage. Local beeswax candles are always a good choice, and can make a lovely addition to said massage.
> My favorite really last minute gift to get would be a 10 class punch card at the Yoga Workshop, or any local yoga studio.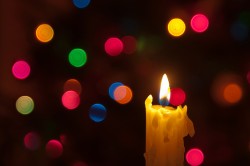 Lindsey's ideas:
> Donate to a favorite organization. What's most meaningful to you or to the ones you love? Or want to save an elephant? Foster elephants (and rhinos too, oh my!) at the Sheldrick Wildlife Trust. Fostering comes with pictures and updates and that kickass feeling of being awesome.
(Can you tell that some of us eles are like-minded?)
> The Gift of Travel:
"To move, to breathe, to fly, to float,
To gain all while you give,
To roam the roads of lands remote,
To travel is to live."
~ Hans Christian Andersen
This year, my boyfriend and I decided we didn't need anything from each other this holiday. Our already too-little apartment is filled with too many tchotchkes and soon-to-be donated items we don't use. What we do always crave is a getaway.
We decided we'd match each other, dollar for dollar, and put the money away into a travel fund. As they say, things don't make us as happy as experiences. We're probably being a bit boring by just throwing some money into an e-folder within our online bank, but I like the idea of having it visible and tangible, a sweet reminder of the next little adventure together with the one(s) we love.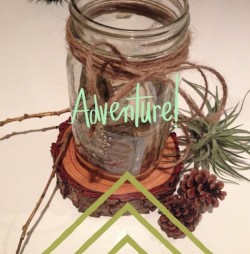 Renee's ideas:
It might seem boring to get a friend food storage containers for Christmas, but this beeswax food wrap is a truly sustainable, unique and affordable product. It lasts forever (reusable and washable) and even helps food breathe, which in turn slows down decomposition. How perfect is that?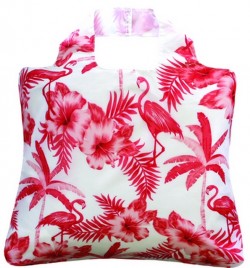 > There are plenty of super cool reusable bags on the market. I like to look for three things: design, fit (whether I can sling it over my arm while I walk) and size when it's folded up. I've never actually tried this line before, but I love the variety of graphics, shapes and sizes. I'm pretty sure that they would make great stocking stuffers for any shopper on the list.
Emily's Ideas:
> The never ending letter.
I love the idea of writing letters to someone I care about for the holidays—we almost never take the time to say aloud what we would in writing, and everyone likes to know they are cared about. But, after a few years of doing this, they start looking as last-minute as they sometimes are.
So, last year I got my dad a notebook that we could send back and forth to one another until it is full. It's like a letter 2.0. And the best part? You end up with a written history of your entire relationship.
Emma's Idea:
> Draw! Paint! Take some time with your creative self and draw someone you love, or something you love and give it to someone you love.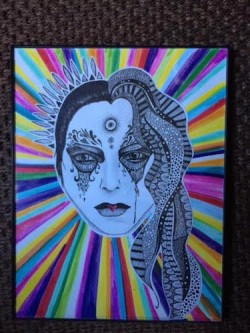 Travis' Idea:
> As a lover of loose leaf teas, I am often looking for the opportunity to share it with others. Compared to regular tea bags, loose leaf tea is like fine wine. High quality tea has wonderful flavors and health benefits, as well. A set like this can provide your lucky gift recipient with everything they need to get started drinking delicious loose leaf teas. Even better, shop for it at a locally owned tea lounge. A great tea to buy for any tea lover (or novice) is Jasmine Pearl. I also love oolongs, such as, Bao Zhong or those combined with dried roses or lavender.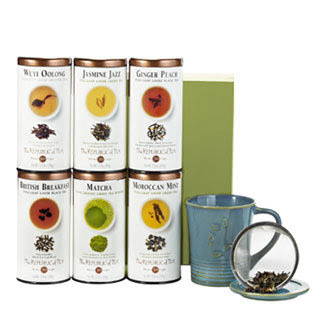 Last but not least: Give the gift of mindfulness, 365 days a year. Gift an elephant journal subscription for only $24 for the entire year of unlimited mindful reads. 
Love elephant and want to go steady?
Photos: JD Hancock/Flickr; Lendog64/Flickr; Author's Own; Markus Spiske/Flickr; Author's Own Ryan Hyde/Flickr