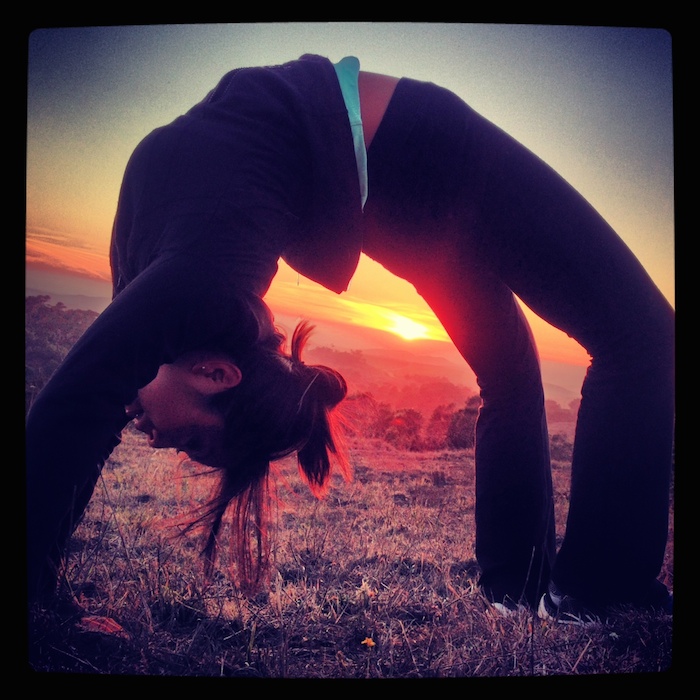 Savasana.
As her cold mat unfolds itself on the hardwood floor
she notices her breath—short, shallow, tense.
Like being buried alive
in the sands of chemo and radiation.
She deliberately spreads her toes along the edge of her thin, rubber mat.
Her hair will continue to fall out,
but somehow here in this dark refuge,
it doesn't matter.
Her to-do list and unresponded emails
annoyingly buzz in her ear.
They threaten to disrupt her breath
as she tries in vain to shoo them away.
The smell of sticky sweat and sorrow fills the thick air.
Grief and fear cannot touch her here.
Their sinister faces are pressed up hard against the steamy glass,
seeking her out like hungry wolves.
In downward dog, her fingers are webbed and wide;
her toes grip tightly to her mat
as she loosens herself from the hardened shell
she has carried upon her fatigued shoulders.
For years she would move and bend-
for her husband, for her children, for her ailing father
whose loving eyes would fail to recognize her each morning
as she would draw his heavy curtains and button his favorite blue wool sweater.
She missed his jovial chestnut brown eyes and how they'd crinkle when he'd laugh.
Now, he merely smiles politely like a stranger across the table,
gripping his favorite stained ceramic mug.
Sometimes the forgetting is more painful than the remembering.
Her breath softens, relaxes.
All the beads of isolation and desperation collect on her skin,
pooling together
and drop on her mat.
She pushes up into wheel pose, arms grounded and steady,
chest reaching longingly for the sky.
Her heart cracks open-
a cathartic release of a loveless marriage—
of burnt toast and black coffee,
routine daycare drop-offs and missed anniversaries.
Words that haunt her
like a pebble in her shoe.
She continues to move and flow
and breathe and release—
acutely aware of the sensation of heat and sweat and her beating heart
swelling with momentum, bursting with love and light.
Feeling warm and loose and cleansed,
she collapses in a post-climax euphoria,
palms and heart facing towards the heavens.
Open, receptive, full of space.
Love elephant and want to go steady?
Author: Julianne Kanzaki
Editor: Renée Picard
Photo: courtesy of the author