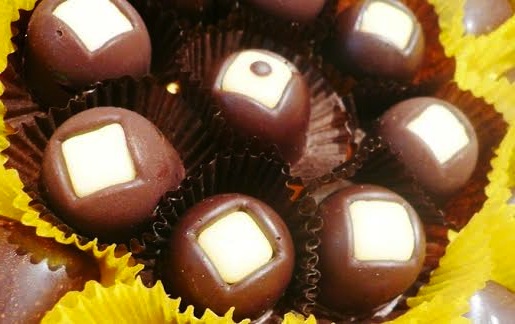 How to make the best raw cherry chocolate in the world:
Ingredients for 12:
• 12 dried, organic Cherries
• 5 Tbsp Raw Cacao Powder
• A pinch of Himalayan salt
• ¼ Natural Vanilla seeds
• 1.5 Tbsp Raw Honey (a thick variety is great here)
• a pinch of Himalayan salt
• 5 Tbsp Raw Cacao Butter
Melt your cacao butter in a double boiler or using Bain-Marie method.
In a large bowl, mix powdered ingredients —Cacao Powder, Salt, and Vanilla seeds.
Stop to smell your present moment. Vanilla heaven is right here and right now!
Add the liquid "golds"—melted cacao butter and raw honey. Mix. Just mixing will not do it, love it!
Keep loving it for a few minutes, until the texture is seductively smooth.
Place the chocolate mould on a flat tray.
Mindfully pour the thick, liquid, chocolate heaven, but not to the very edge of the "niche", just around 2/3, so we have space for the cherry to dive in to the chocolate lake without splashing all over.
Make 12 lakes.
Put a cherry into each niche.
Pour the rest of the chocolate in to cover the cherries. Give a mould a nice "slap" to release the trapped bubbles.
When done, place the tray with the mould in a fridge for minimum one hour.
Pro tip: a round-shaped molds work best for this particular Chocolate. It is a nice cherry feel.
Enjoy being healthy, creative and chocolate intelligent! Remember—conscious is the new sexy!


~
Love elephant and want to go steady?
~
Author: Anna Suvorova
Editor: Emma Ruffin