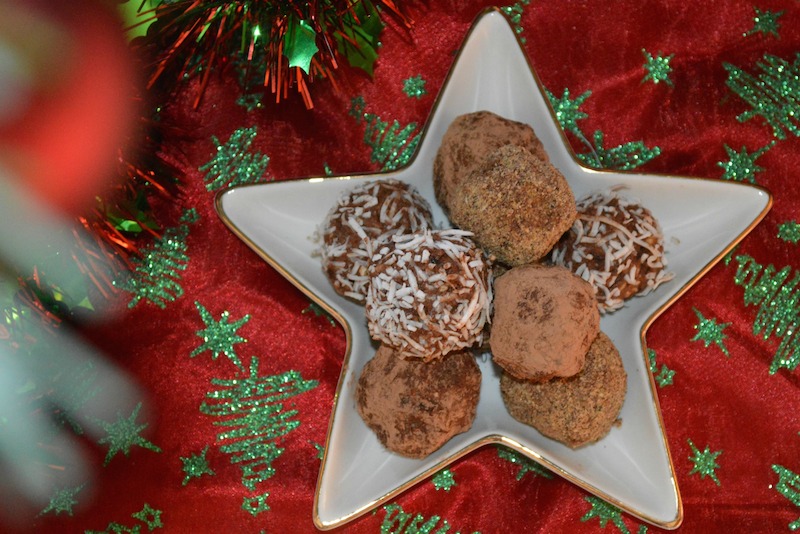 Fancy a Christmas treat that is a little bit naughty but a whole lot of nice?
Then look no further!
This is my delicious Adults Only (sorry kiddies!) Naughty But Nice Truffle recipe. It's delicious and super healthy.
Warning: This recipe does contain a small amount of alcohol.
What You'll Need:
• 1 cup Medjool dates, pits removed
• 1/2 cup cashews
• 1/2 cup walnuts
• 1/3 cup virgin coconut oil
• 2 Tbsp raw cacao powder
• 1 Tbsp chia seeds
• 1 Tbsp + 1 tsp rum (I used white rum)
• 1/4 cup organic sultanas or raisins
• 1 Tbsp cacao crunch (optional)
• Dusting of choice (I alternated between coconut crunch, raw cacao powder and coconut shreds).
Note: Truffles are very versatile creations. Ingredients can be altered based on personal taste and allergies (e.g. swap out nuts). The key is to experiment!
How to Make Them:
Soak the dates in filtered water at room temperature for about 10 minutes or until soft.
While the dates are soaking, put the coconut oil, cacao powder, chia seeds, rum and cacao crunch (optional) into a high-speed food processor to marinate. The chia seeds will start to absorb the flavour and the liquid. Don't process the ingredients just yet! Marinate only.
When the dates are ready, drain the water off and add the dates to the food processor. Now you can press the on button! Process until the mixture resembles a paste.
Add the nuts and pulse until desired chunkiness is achieved. Be careful not to over process as the mixture will turn into a bit of a liquid mess (albeit a very tasty one!)
Scoop the mixture into a bowl and stir through the sultanas.
Pop the mixture into the fridge for 20 minutes to allow it to firm up a little bit. Makes rolling the truffles that much easier.
Using the palm of your hand, roll the mixture into tablespoon-sized balls.
Coat in dusting of your choice and lay them out on a waxed cookie sheet.
Pop the truffles into the fridge for at least 1.5 hours to firm up.
While waiting for the end result and as part of the clean up: lick your fingers, the spoon, the bowl…we can't let any of that decadent truffle mixture go to waste!
Truffles should be stored in airtight container in the fridge. They can also be stored in the freezer to consume at a later date.
I hope you enjoy these cheeky festive creations.
What's your favourite truffle combination? Please comment below.
Love elephant and want to go steady?
Author: Bree Hogan
Editor: Renée Picard
Photo: courtesy of the author