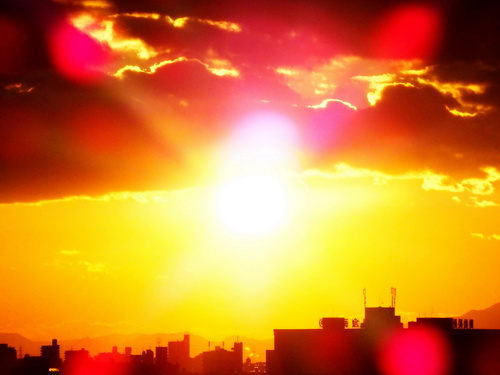 It's mid-afternoon, sunny and cold, and perfect.
It's winter solstice, and in under two hours the sun will have set but this feels impossible right now.
Somehow I haven't fully registered what day it is, but I was compelled to venture outside into the cold to soak in the sun's magic on this shortest day.
I'm at a park sitting on a bench. I just picked up an ant with my pen, mesmerized by its bright, almost neon-yellow colour and overwhelmed by gratitude for the privilege of being alive with such a vast array of gorgeous beings. As I lowered the tiny ant back to the ground, I flicked the pen ever so slightly and the ant stopped moving.
Tears that had been welling up inside for hours now, maybe days, came pouring out. I sat under a great, big tree and wailed, knowing with my whole heart that the violence involved in ending this yellow ant's life was beyond my comprehension and ability to forgive.
The air was sharp and cold and I felt like I was swallowing daggers. The untimely death of this one sentient creature was without a doubt going to spiral the universe down a chaotic path the outcome of which I couldn't fathom and which terrified me, or even this: that the very nature of the universe is inevitably chaos, to so comfortably accommodate a death that wasn't supposed to happen this way, right now, that was the total opposite of sensible or okay.
I looked up at the sky right into the blinding sun, looking for a sign that chaos wasn't going to reign, but I didn't find anything.
I didn't want to think about things like the Butterfly Effect or Things Are As They Need to Be or Karma or the Cosmic Order of All Things. I was too busy crying about accidentally killing an ant and about a multitude of confusions that had been threatening to consume me.
Then the ant started to move.
I giggled and then bellowed with laughter and cried at the same time.
Now, a father and daughter have arrived at the park, and the father starts teaching the girl how to ride a bike. She's reticent. He loses his patience and forces her off the bike, wordlessly threatening to end the session.
She protests and he lets her back on. He pushes her from behind to get her going, and she pedals a few times before losing faith in herself and bringing one foot to the ground.
They try again. This time he doesn't let go, but encourages her to keep pedaling, which she does. He says go go go go! But she halts in fear every time he's about to send her off on her own.
Again he takes the bike from her and walks it away from her. She trails behind, protesting and crying.
He walks away from me toward the far end of the park. She runs after him, and they turn, and disappear from my view. I hear her wailing, and soon there's no trace of them.
How many times in a life do we put the wheels in motion, and become paralyzed with doubt and fear, and come to a dead stop before there's any hope of reaching the goal? How many times do we bow before the horrible things we have done or the good things we cannot do, and have no clue where to go from there?
Is there somebody encouraging us, or acting as a negative force?
It doesn't matter. It doesn't need to matter.
It's our journey to take.
The scene that was just in front of me: it was just a girl and her dad, two people in the park on a cold sunny day, this very first of winter. There was also an ant who sort of almost died, regardless of its knowledge of me or my feelings about it. We are all dancing our little-yet-powerful dances on the same proverbial stage, so clearly on our own, so clearly not.
But here I am, feeling melancholic and bedazzled at the overbearing momentousness of everything, so instead of an ant and a girl and her dad, I have jumped right into a living parable.
I'm watching my own self reach the rubbly edge of a cliff, that place where one life ends and something unnameable begins, wholly determined to fly.
Then I screech to a halt so dramatically that I almost break my ankles as I lurch back in terror, both saved from a fall totally paralyzed by what I have failed to do.
How far back to these fears go, that even in my visions, I cannot leap into the air?
How many times did the little girl inside of me tell herself—maybe she was told and maybe she wasn't—that it cannot be other than this, that there was nowhere else to go, to be satisfied with the parameters of success dictated by a world she didn't even know how to navigate yet?
She was wrong. It's always and is always becoming other than it is. This is the law of nature. But we cling to the fears, the lingering doubts, until they become our ground and our sky, the whole story of us.
The girl and her father return. I don't know what's transpired between them, but this time, on the first try, she can do it. She's riding by herself. The fear is gone.
Yes yes yes yes! says the father.
There are no more tears, or even cries of excitement. I imagine the girl is awed into silence, not only for what she's found herself able to do, but by how easy it was to get there, even when it was impossible.
When she was failing, the failing must have felt eternal. I know it's been this way for me. Then comes success, and suddenly, it's like we are born and made to thrive, that it can't be any other way.
Until it changes again.
There is so much to learn at every single moment in life, before it passes and all that's left are memories, those very pliable seeds for future interpretations and narrative-making.
I look down at the yellow ant, which I have not let out of my sight, and watch it crawling around to its own rhythms.
The little girl is biking, stopping, and starting again.
The sun is lowering over the trees, and tomorrow, it will be around for a tiny bit longer before darkness comes. And it will come, and we need to let it be what it is so that we can learn.
I will the girl – and the little girl inside of me—to remember this shining, sun-lit moment forever, and this way: as the moment that flying became possible.
I ask both of them them to turn this seamless launch into one of the defining moments of their lives.
Love elephant and want to go steady?
Author: Tammy T. Stone
Editor: Renée Picard
Photo: courtesy of the author