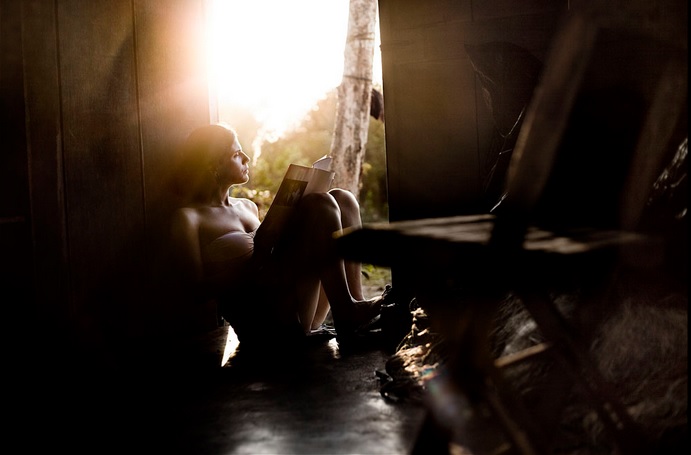 *This is part one of a two part series. Stay tuned for the next installment.
One of the reasons I was put on this earth was to read books.
I love them so. There is something so sexy about them.
The smell of them sparks some dormant, prehistoric thrilling in me. I have always been drawn to rich, thick fiction, books that are mainly character-driven, and I love how well-written ones offer up new friends and draw us into worlds while still letting us participate—for instance, my Scout Finch is different from anyone else's.
Reading is a beautiful but solitary activity, even if we belong to book clubs or good-reads. At some point the experience becomes about us and what's happening on the page and so it can be difficult—for me, anyway—to know how to share that with people.
Last year, by chance, I kept a list of all the books I read. It snowballed as the year progressed. That list grew into this post and I loved the response. All of a sudden people were talking about books and sending in recommendations and all in all it was such a lovely thing I swore I would do it again.
For transparency's sake, because the list and result were planned, this year I found my criteria shifted.
Last year I was almost embarrassed that all I'd read had been suspense fiction, so I vowed to read more widely (I wasn't very successful, as seen below). As with the year before, I found that I was living influenced my reading choices.
2014 was more intense than 2013 and I can definitely see that reflected.
Before I start, a disclaimer: These books are not necessarily from 2014.
I've read 41 books (so far) this year and for that reason, I've had to stay brief.
I'm pretty opinionated about this year's crop. I read some stinkers and stopped reading a few, which is unusual for me—but I haven't included those here because well, because I feel like there's no reason to be mean if we have a choice not to be. For the most part though, every book that makes its appearance on this list has a lot going for it.
And my favourite part about this annual check-in is the check-in.
Do any reading this year? What did we love and what books required Advil in order to finish? I'd love to hear all about it.
I've organized this list in terms of genre. This post contains selections for fiction and memoir; the next will have choices for short story, non-fiction and writing manuals.
Happy reading!
Fiction
1. Lost, by Gregory Maguire.Maguire's imagination fascinates me, so I was interested to see where it took him in his first "real life" novel. Winifred Rudge flies to London to do some research on a book she's writing on Jack the Ripper and when she gets there she finds that her cousin has disappeared and there are strange noises coming from behind the wall in his house. It was an intriguing premise but honestly, he fell short in the execution. It felt like he literally lost the plot a few times. The conclusion made things better though
2. A Feast of Crows, by George R.R. Martin.
3. The Dance of Dragons, by George R. R. Martin.
4. Life After Life, by Kate Atkinson.
5. This Side of Paradise, by F. Scott Fitzgerald.
6. Dominion, by C.J. Sansom. I read this one based on a Twitter recommendation from Stephen King, believe it or not. It supposes that (essentially) the Nazis won the Second World War, and imagines approximately the ten years following. It's dark and weird and unnerving, in a good way.
7. Promise Not to Tell, by Jennifer MacMahon.
8. To Kill a Mockingbird, by Harper Lee. I was curious to see if this one stood up. The first and only other time I read it was for grade nine English and I certainly don't remember back that far. I can only say that I had to put it down several times to bawl. To say "it stood up to the test of time" is a gross understatement.
9. Dark Places, by Gillian Flynn.
10. The Luminaries, by Eleanor Catton.This one was a struggle to finish. It was good, but it didn't grab me in the way I expected. I guess I expected more because it won the Man Booker, but to each their own.
11. Year of the Flood, by Margaret Atwood.
12. Teen Spirit, by Francesca Lia Block.
13. Lost Memory of Skin, by Russell Banks. So creepy, So interesting. I have to give all the artistic respect to someone who channels a protagonist who is a registered sex offender. Banks doesn't take any easy ways out and fully inhabits the Kid, giving him edges and nuance that would be hyperbole under someone less skilled.
14. The Fault in Our Stars, by John Green.
15. An Echo in the Bones, by Diana Gabaldon.
16. Mr. Mercedes, by Stephen King.
17. The Orenda, by Joseph Boyden.
This was an astounding book—it's absolutely heartbreaking and is possibly the best book I read this year. I won't give anything else away, it's that good.
18. We Need to Talk About Kevin, by Lionel Shriver—this one could also be a contender for best book of the year.
19. Written in My Own Heart's Blood, by Diana Gabaldon.
20. Bone and Bread, by Saleema Nawaz.
21. Nightmare Alley, by William Lindsay Gresham.
Memoir
1. An Ordinary Man, by Paul Rusesebagina.This is the memoir upon which Hotel Rwanda is based. In 1994, Rusesabagina, through a confluence of good luck and hard work, was the manager of a hotel when the genocide started. He was able to hide more than 1200 refugees from the militia forces by letting them stay, barricaded, in the building. It's as riveting a tale as you might imagine.
2. Wild, by Cheryl Strayed.
3. What I Talk About When I Talk About Running, by Haruki Murakami.
~
~
Love elephant and want to go steady?
~
~
Author: Bronwyn Petry 
Editor: Ashleigh Hitchcock
Photo: Cia de Foto at Flickr Creative Commons