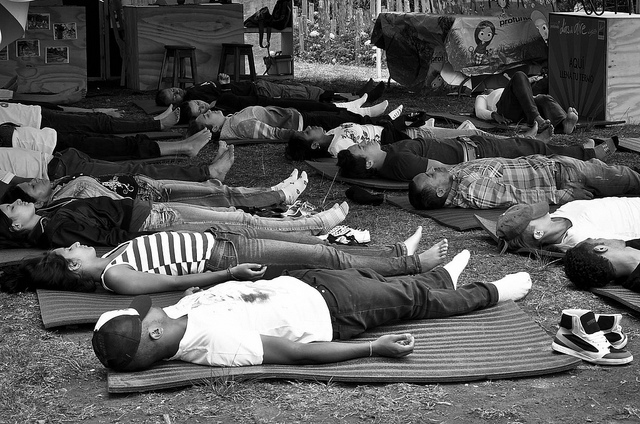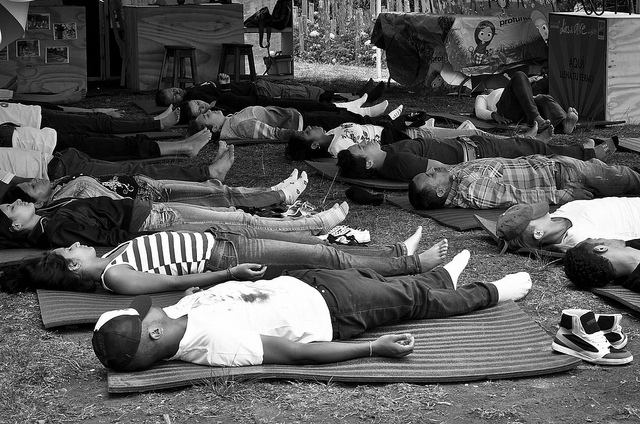 Okay, full disclosure: I'm that student in yoga classes.
Optional vinyasa flow? You bet I will opt to do it. Walk, step, or hop to the top of our mat? Best believe I'm going with option C. Go into crow pose if it's part of my practice? Well, caw-caw, everybody.
I know it won't mean much, but I don't mean to be. When I first started yoga, I gravitated towards the physically nutty classes because I knew I needed to Capital "T" Tire myself out in order to handle savasana. From there, it morphed into an obsession with arm balances, inversions, backbends, and transitions.
It's not because I want to push myself past my limits, or be that student in class; it's just what I love to do in my practice.
It might be saying a lot about how high my stress levels were that I once needed to run myself into the ground in order to handle a few moments of stillness, but there's no denying that I loved and still love taking rigorous classes.
I became a RYT earlier in 2014, and I lucked out in being able to set up shop in three local studios almost immediately after graduation. I now teach nearly every day, sometimes multiple times a day. And—aside from two of my classes—they're all fairly gentle forms of yoga.
I was so clueless as to how the gentler classes operated that I spent most of my teacher training observing and studying those very classes. I could whip up a fast-paced vinyasa sequence on the spot, but found myself stumbling to create even a half hour's worth of a gentle flow.
But that's what I kept gravitating towards as a teacher. Even though I was having a lot of fun with my energetic classes, I snatched up any and every opportunity to teach the slower ones.
They say to teach what you know—-so what in the world was I doing teaching the opposite of what I actually practice?
I teach gentle yoga (when my own practice is anything but) because it's a bit unknown. I don't like resting on my laurels and I don't like doing anything that will potentially leave me bored.
I teach gentle yoga (when my own practice is anything but) because I want yoga to be accessible to everyone. Too many people think yoga is reserved for those who can hop into a handstand and roll back into plow and get into the flattest pigeon pose around. I don't want to contribute to that by being a yoga instructor who only teaches "hard" classes.
I teach gentle yoga (when own my practice is anything but) because I know being that student in the class can translate into being that teacher at the front of the class. Teaching gentle classes keeps me tuned into how everyone's unique body type operates, which keeps me more aware of what is and isn't appropriate to demo or cue, even in my "harder" classes.
I teach gentle yoga (when own my practice is anything but) because yoga comes in all shapes and sizes and varieties. Teaching a range of classes reminds me that everything we do on the mat boils down to one main question, "Can you return to your breath?" And that doesn't just mean breathing through the physical strain; it also means breathing through stillness when we want to fidget or run five different to-do lists in our mind.
I teach gentle yoga (when my own practice is anything but) because it forces me to be patient. I can't zip through a gentle hatha class the way I could in power yoga. It can still be a challenge for me, keeping a proper pace and resisting the temptation to immediately jump to the next pose. But it's a challenge I need.
I teach gentle yoga (when my own practice is anything but) because there are other ways to handle savasana other than being Capital "T" Tired. Sometimes running yourself into the ground in order to handle meditation is a sign that you're running from something else entirely. Slowing it down has the potential to teach you that you don't always have to run from it. You can breathe through it. Or at least breathe alongside it. In many ways, I'm still teaching myself that.
Now that I've started teaching gentler classes, I've found that I've started taking gentler classes: first as a way to get inspiration for my own classes, but later as a way to finally practice what I preach.
Slow down, savor the moment, breathe.
Take in what I'm experiencing, observe what I'm feeling, breathe. Honor myself, honor my practice, breathe.
Because sometimes the progress you're making can't be measured in the number of chatarangas you can do.
Love elephant and want to go steady?
Author: Abby Rosmarin
Editor: Renée Picard
Photo: Ruby Ho at Flickr