This article was written in response to Skip the Salvation Army's "Red Kettle."
I am a single parent of three children.
I have endured fear, poverty, isolation and shame that I never thought possible and The Salvation Army has been a key, foundational player in rebuilding my life and the lives of my children.
I would like to thank elephant journal for the opportunity to add my story and opinion to the discussion of whether or not people should give to the Red Kettle Campaign.
I never went to The Salvation Army to stay. I was just looking for help. They hosted a Celebrate Recovery meeting in Vancouver every week where I met with a diverse community of people to talk about our hurts, hang-ups and habits. One of the guidelines of the meeting was that we weren't there to fix one another, only to support one another as we shared our stories, focusing on our similarities, not our differences.
"What can I do? How can I help? We love your kids, Frances. We love you, Frances." These are some of the things I hear on a regular basis from my Salvation Army Pastor, Michael Collins. If you knew my story of abandonment, addiction and abuse, like he does, you would know how much that means to me.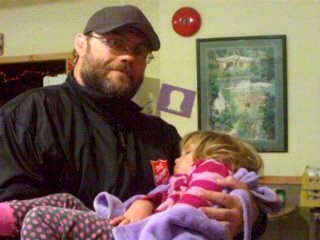 Year after year, The Sally Ann has given my children what I could not with summer camps, music, dance programs, Christmas turkeys, food and presents. They have also helped us move twice, attended my mother and brother's funeral and helped my other brother get into a treatment center to get clean from addiction.
The list, honestly, goes on and on and on for what they have given, free of charge, to my family.
So it makes me justifiably angry when all year long, I watch the people of The Salvation Army selflessly and tirelessly volunteer, help and serve people in the community and abroad, and then the one time a year when they ask us to drop our spare change in a bucket, to help them help others, people who will never come close to serving humanity in the way that they do—because so few ever will—tell the public to stop giving to them.
Instead, they suggest, you should give your donations to Goodwill, who pays disabled people pennies an hour, or the Red Cross, Easter Seals or Habitat for Humanity with CEO's who make nearly one million dollars a year versus the average $100,000 salary of top earners in The Salvation Army. It is not that these organizations don't do great and admirable work—they do; it's just not the same work.
The Salvation Army didn't just hand me something and walk away. They saw me every week. They loved me. They loved my kids. They counselled and empowered me with choices, options and opportunities. They gave me a foundation on which I could rebuild my life. They gave us hope.
They don't just provide for people's needs, they love them back to life.
The Salvation Army is the best, most effective organization to meet the needs of the communities they serve, and the more research I did for this article, the more I realized how ridiculous it is that we're even having this conversation.
So, it doesn't seem to be as much about change in a bucket as it is about a change in the world.
For me, when the topic of homosexuality has been discussed, whether it was a personal conversation or from the pulpit, it has always been respectful of people's choices and that our calling was to love God and love people (Matt 22: 37-39) and that these are God's greatest commands. I think that the church is still trying to find a place of peace with following God's commands of loving people and honoring God's Word as we try our best to live at peace with everyone (Romans 12:18).
There is always room for improvement in every organization, and The Salvation Army is improving all the time.
Maybe the Sally Ann has the right idea in not replying to these accusations and instead to allowing their good work, the history of the people they serve and the truth to speak for itself, but I feel like the least I can do after all they've done for me and my family is stand up to social media bullies who don't do their due diligence in research and are literally trying to take food, clothing and Christmas away from the poor and marginalized people that The Salvation Army helps with the donations from their Red Kettle Campaign.
Maybe we could all learn a little something about not trying to change or fix one another and just try to support one another as we focus on our similarities, not our differences.
A little kindness goes a long way.
I learned that from The Salvation Army.
Sources:
> forbes.com (here and here and here)
> salvationarmy.ca (here and here)
Love elephant and want to go steady?
Author: Frances Stone
Editor: Emily Bartran
Photo: Mike Mozart/Flickr, courtesy of the author