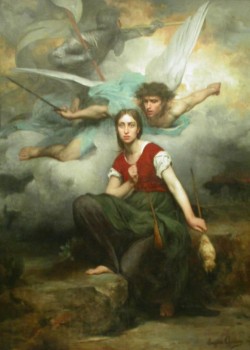 "This is how he grows: by being defeated, decisively, by constantly greater beings."  ∼ Rainer Maria Rilke
This closing passage of the poem "The Man Watching" by Rainer Maria Rilke (translated by Robert Bly), expresses a key mechanism of spiritual growth.
Elsewhere in the poem it's implied that "constantly greater beings" are what we might also call "angels"—and they are a far cry from the oversized Tinkerbells of New Age spirituality, always flitting about and shining a gentle light on the path ahead of us, imparting nuggets of cliched wisdom. No, these are angels with swords and daring visions, challenges and unkind disruptions of the status quo.
We can also interpret "constantly greater beings" simply as teachers. If they weren't greater than us in some respect, they wouldn't be teachers. You wouldn't take a course in economics, for instance, from someone whose knowledge in the field isn't greater than yours. But as you become more knowledgeable, you gain on your teachers, so to speak, eventually matching or even surpassing them in knowledge.
Difficult circumstances and challenging life experiences can also be teachers. But there's a big difference in the realm of spiritual learning, compared to all others. You don't learn spiritual lessons in order for your life to become easier, or so that you can move on to better circumstances, as you might do from earning a degree.
Instead, spiritual learning prepares us for the next greater teacher who will overwhelm us. Once you're on a genuine path, we can expect that we're periodically going to get "more than we bargained for." And that means that when the next greater teacher shows up, we may feel that it's just giving us hell.
At least, at first we probably won't see how to become stronger by facing its impossible gift.
That's what it means to feel defeated.
But not seeing how to become stronger doesn't mean we can't do it, just as not knowing how to swim the first time you enter water doesn't mean we can't learn it. You swallow a lot of water and flail around helplessly and think you're going to drown, but you learn it.
And be very clear on this: Without knowing how, we invite the next greater being that shows up in our lives.
Whether or how our life circumstances change as a result is not the point. What matters is whether we are willing to become greater in understanding, clarity, and compassion for everyone who struggles with what's commonly called "the human condition." The last value is especially important, because whatever compassion we feel that we cannot show another person is exactly the degree of compassion we will not hold for ourselves.
The opening of Scott Peck's spiritual classic The Road Less Traveled  was "Life is difficult." The Buddha's first Noble Truth is "Life is suffering." The "American way of life" is to think we can always overcome difficulty, and that suffering should be eliminated through therapy, medication, or shopping.
But the spiritual way of life means always learning from both difficulties and suffering, so that we're constantly becoming greater beings ourselves.
Love elephant and want to go steady?
Author: D. Patrick Miller 
Editor: Renee Picard 
Photo: Jeanne d' Arc (Eugene Thirion). Licensed under Public Domain via Wikimedia Commons.